Great international sympathy for Danish player Eriksen after suffering a heart attack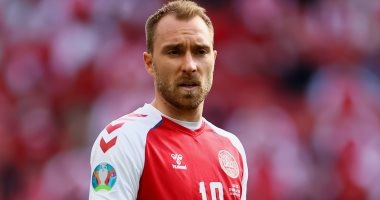 The Danish national team player Christian Eriksen suffered a heart attack Saturday during his country's match with Finland in the European Nations Cup 2021, a wave of international sympathy. Solidarity has increased among players and fans of the participating teams in the continental championship and in the world of sports in general. The player's agent said Monday that his client is "in good spirits".
After the shock.. the joy! Many actors in sports, especially football, have expressed their joy after the shock caused by the exposure of the Danish national team player Christian Eriksen He suffered a heart attack, Saturday, during his country's match against Finland in the European Football Championship in Copenhagen.
Signs of solidarity and encouragement spread in the stadiums of the host cities of the continental championship for Eriksen, who suddenly fell on the field while preparing to receive the ball from one of his colleagues. The communication sites were also filled with messages of sympathy for the Inter Milan player, while the European sports press focused on the prominent role played by the paramedics in his quick relief. The Spanish newspaper "Marca" wrote on its front page: "We know who the European champions are: the paramedics!"
The player's agent, Martin Scotts, confirmed on Monday in an interview with the Italian newspaper "La Gazzetta dello Sport" that he spoke with Eriksen on Sunday, adding: "He was joking and in good spirits, I saw him fine." He added: "We want all of us to know what happened, even him. Doctors keep doing meticulous and detailed testing."
Solidarity messages with Denmark player Christian Eriksen
Messages of solidarity with Denmark's Christian Eriksen
"Messages are coming in from all over the world," Martin Scotts said. "Half the planet has reached out to us." He confirmed that his client will remain under observation in the hospital until Tuesday at least, adding, "But he wants in any way to support his teammates in the match against Belgium" Thursday in Denmark's second match in the continental championship.
And Denmark's national team doctor, Martin Posen, confirmed Sunday that the midfielder had suffered a heart attack, saying, "We lost him, and we resuscitated the heart."
Finnish and Danish fans chant "Christian Eriksen"
Finnish and Danish fans chant "Christian Eriksen"
The Danish Football Association announced that Eriksen's condition is "stable", while team doctor Martin Posen confirmed during a press conference on Sunday that the player had suffered a heart attack, without finding "any explanation so far" for what happened.
"He was gone and we did CPR," the doctor said. "How close were we? I don't know. We put him back after defibrillation once, so it was very fast."