Haftar Meets the New Government of National Accord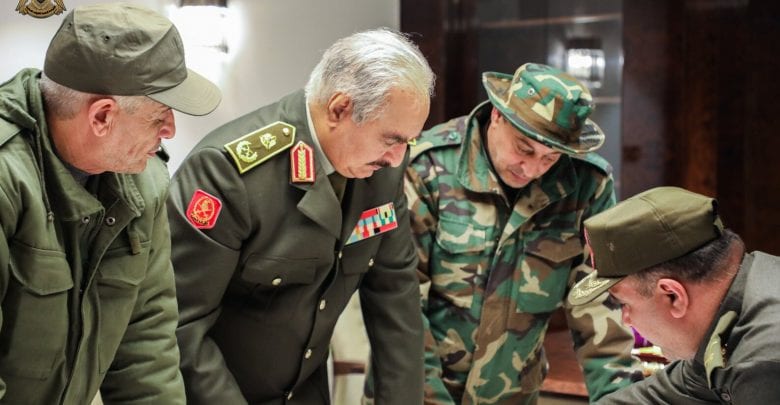 The General Command of the Libyan Armed Forces announced, on Sunday, the meeting in a brief statement, without addressing its details.
The source pointed out that the focus was on "the necessity of removing all foreign forces and deporting them from the country, to ensure the success of the political process, and then the success of the security and military arrangements."
The source confirmed to our reporters, that the meeting that took place on Sunday at the headquarters of the Armed Forces and lasted more than an hour, discussed the file of the exit of mercenaries and foreign forces from the country, and the unification of the military establishment.
He pointed out that "ways to establish a joint military force from the Libyan army forces and the Libyan forces operating in the west of the country, under the leadership of the new prime minister, to assume the tasks of securing oil installations and border points," he said.
He also stressed that the unification of the Libyan Oil Corporation and its revenues, "may facilitate the formation of this force without the objection of any party."
Concerning the borders and securing them, the source said that Field Marshal Haftar discussed with Qatrani "ways to provide strong security protection for the borders and prevent the flow of migrants, mercenaries, weapons and drugs."
The source pointed out that the First Deputy Prime Minister, "undertook to transmit the results of the meeting to the new Libyan prime minister, Abdul Hamid Dabaiba, to expedite the implementation of what was discussed."
With regard to the issue of combating terrorism, the two sides discussed, according to the source, the need to confront ISIS sleeper cells and some terrorist gangs settled in cities.
Libya suffers from the presence of several local and international terrorist organizations, such as al-Qaeda and ISIS, as well as international mafia gangs that have been active in smuggling Libyan oil and weapons during the years of chaos, in addition to the mercenaries sent by Turkey to support the reconciliation government and the terrorist Brotherhood organization.
With the start of the "Flood of Dignity" operation, which the Libyan National Army declared in April 2019 to cleanse western Libya of terrorist organizations, some of these organizations infiltrated the south again.
And on Sunday, the Libyan Air Force launched air strikes on ISIS hideouts in the city of Ubari, southern Libya, which resulted in their destruction and the killing of a number of the organization's members, and an ammunition store was blown up.
Warplanes launched 4 successive strikes, followed by a force of the Libyan Armed Forces storming the dens, where they arrested two men and a woman, and confiscated a quantity of weapons.
The spokesman for the Libyan army, Major General Ahmed Al-Mesmari, said that his country "is still in conflict with armed terrorist groups inside Libya, and they pose a threat to neighboring countries."
Al-Mesmari added that the army is still "fighting armed terrorist outposts that came to Libya from different countries to implement its agenda," and aims to "use the Libyan lands to attack neighboring countries."
The Libyan army spokesman affirmed that "eliminating terrorism needs more support," stressing that "it is not easy to eliminate terrorism by one or two processes."