Horrific scene of a Syrian refugee devoured by the fire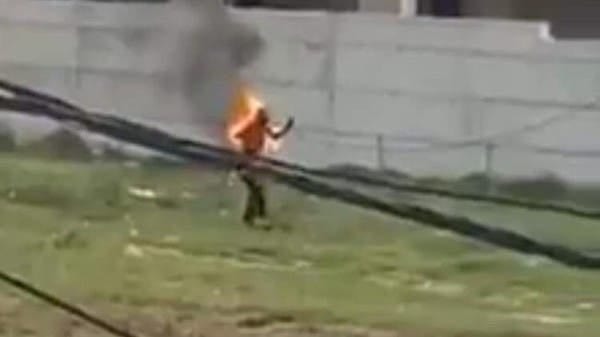 From the fires of the war in Syria, Bassam Hallaq, 52, father of two sons, fled to Lebanon, perhaps finding refuge for his family, and he found the fires of hunger and poverty in the neighboring country, and he resolved to end his life by burning after he poured gasoline on his body and set him on fire that he did not resist fleeing.
In the town of Talbaya in the central Bekaa, Lebanon, where Bassam and his family of nine share (his wife and two married children have three children), the father who lost his livelihoods left his home and left behind the Bekaa Hospital, to which he was transferred and set fire to his body before his life on A bed with a third degree wound, according to a preliminary investigation by the Internal Security Forces.
Ahmad Alshame

@ahmadal_shame

لاجئ سوري في لبنان في منطفة تعلبايا يضرم النار بنفسه نتيجة تردي أوضاعه المادية.
حسبي الله ونعم الوكيل.#حظر_كامل
The bad situation counts my father
"The bad living situation burned the heart and body of my father," Haytham, 27, told our reporters.
He added: "He brought us to Lebanon since the outbreak of the war in Syria, and we settled in the town of Talbaya and he was a" concrete teacher. "Our economic conditions began to deteriorate three years ago, and then the economic crisis that Lebanon suffers from since the fall of last year came to make the mud worse.
He continued: "The economic pressure began to increase on us, especially since my brother and I lost our work and no longer supported the family, even we could not secure a bundle of bread at times."
Not eligible for aid
The family of Bassam Halaq, who has been displaced from the Syrian town of Daraa, has tried repeatedly to review the UNHCR in order to register her name in the aid program she provides, but the response of the international organization was, according to Haitham, that "we are not eligible for aid and there are Syrians who are given priority".
He added: "We asked them to visit the house we live in to make sure we need help, but they did not respond to us."
We could not bury him in Daraa
Yesterday, Monday, the family buried its dependents, and instead of the Syrian soil of Daraa, their body was buried, and it was buried near the town of Talbaya in the Bekaa, "because his family was unable to transport him to Syria," according to what his son confirmed.
Despite the uproar caused by the Bassam case in Lebanon and the spread of a video on social media, it shows the moment gasoline was poured on his body and ignited, but the concerned authorities did not initiate to provide assistance to his family.

Syrian refugees in Lebanon
Neither asked about us
In this context, Haytham said, "We were left behind because of our path, and no one asked about us after our painful suffering."
If the father, Bassam, chose to "force" death after his means of subsistence were narrowed, then his family's options after his death became narrow, "Returning to Syria is now impossible due to the unstable conditions there, and the economic situation in Lebanon is getting worse." Haytham ended his speech with a grief.