How Israel's little war in Gaza backfired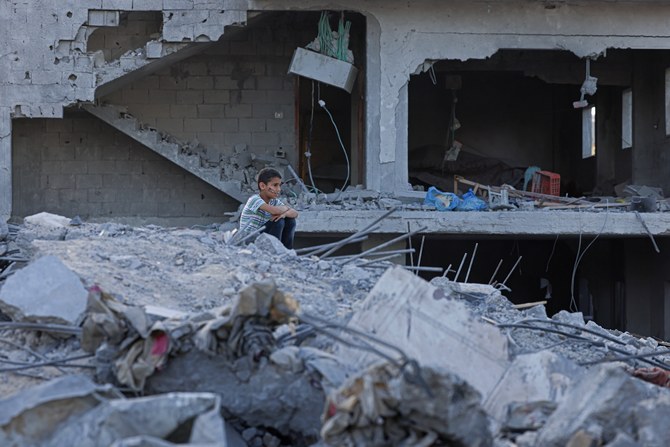 A five-day war between Israel and Palestinian Islamic Jihad in Gaza ended in a ceasefire Saturday, with both sides claiming to have won the round. In fact, with a relatively low death count on both sides, some would describe the aftermath as yet another stalemate.
Israeli Prime Minister Benjamin Netanyahu needed this latest cycle of violence to restore deterrence and defuse a crisis within his own government. His shaky coalition is mired in infighting over the unleashing of more violence against the Palestinians, as demanded by the racist and ultranationalist National Security Minister Itamar Ben-Gvir, who had threatened to pull out of the coalition and bring the government down, as well as over the public backlash against the PM's proposed judicial reforms.
For weeks, tens of thousands of Israelis took to the streets of Tel Aviv and other cities to denounce the "conspiracy" against Israeli democracy. Unable to push his legislation through, Netanyahu ordered a pause while engaging in talks with the opposition. Meanwhile, Likud's support in the polls was dipping fast. Netanyahu needed to appease Ben-Gvir while deflecting attention from the crisis his reform bills had created. A small war on Gaza was the result.
Palestinian Islamic Jihad had earlier avenged the death by hunger and neglect of one of its senior political leaders in an Israeli jail. It fired a few rockets against neighboring Israeli settlements, giving Ben-Gvir the excuse he needed to wage war. Last week, Israel decided to retaliate by killing two Palestinian Islamic Jihad leaders in Gaza. Then, it waited for a response. It took the group two days to fire volleys of rockets into southern Israel. And Israel had its little war.
This was another zero-sum encounter in Israel's never-ending conflict with the Palestinian resistance

Osama Al-Sharif
Palestinian Islamic Jihad lost a few of its field leaders in this latest war, including the one responsible for its missile program. But that did not affect its ability to launch more than 1,300 rockets, including a few that hit southern Tel Aviv and a settlement not far from West Jerusalem. It is a small militant group that is known for its uncompromising positions when it comes to fighting the "Zionist enemy." It has close ties to Iran, which is believed to have supplied it with the technology to build and fire crude rockets.
Egyptian mediators stepped in to negotiate a ceasefire, which finally happened on day five of the confrontation. Palestinian Islamic Jihad had rejected earlier offers unless Israel committed to stop targeting its leaders. That did not happen; or at least it was never put on paper. Instead, Israel proposed a quiet-for-quiet deal as soon as the group stopped firing missiles.
In the end, both sides licked their wounds and took a step back. For Palestinian Islamic Jihad, the public perception is that it never faltered and continued to fire rockets, challenging Israel's air supremacy and huge firepower. This small group was not defeated, even though it suffered serious losses to its military cadre.
For Israel, the cost of this little war was huge. Tens of thousands of Israelis had to be evacuated from towns and villages in southern Israel close to the besieged Gaza Strip. Israel's main airport had to close and tourism was hit hard. The so-called Iron Dome fired hundreds of costly missiles, missing a significant number of Palestinian Islamic Jihad rockets. At least two million-dollar missiles from the sophisticated David's Sling antiballistic air defense system were launched to intercept rockets heading to Tel Aviv.
The "mowing the grass" strategy, used by Israel for years, failed to destroy Palestinian Islamic Jihad, despite Tel Aviv's superior arms and air defense technology. This was another zero-sum encounter in Israel's never-ending conflict with the Palestinian resistance. The loss for Israel, by military, economic and moral standards, was serious.
The real story was not the exchange of rockets, but how Hamas, Hezbollah and Iran chose to stay out

Osama Al-Sharif
By Sunday, it was business as usual, with Gazan laborers crossing back into Israel to work and trucks carrying fuel and supplies moving into the besieged Strip. But the fact that Hamas apparently chose not to participate directly in the war and that Israel was careful not to target its positions shows that a new formula is being clubbed together.
Hamas, the militant group that controls the Strip and has a much superior armory than Palestinian Islamic Jihad, opted not to get involved even though it issued threats under the so-called joint operations room of the resistance groups. Israeli officials made it clear that Hamas was not the target of this latest operation. Hamas' political bureau held back its military wing because it is looking for a role in a much bigger game with much higher stakes.
The group had negotiated a number of deals with Israel, including allowing Gazan laborers to work in Israel and making arrangements for a steady flow of Qatari money, while biding its time to see how long the troubled Palestinian Authority and its ailing leader Mahmoud Abbas can cling to power in the West Bank.
For Netanyahu and the military establishment, keeping Hamas out of the fight meant ending the military operation as soon as possible. Israel's worst-case scenario is that it would face rockets fired from Lebanon, Syria and Gaza in a much bigger confrontation. The real story was not the exchange of rockets and laser-guided missiles, but how Hamas, Hezbollah and Iran chose to stay out.
The only losers from this latest duel were the residents of Gaza. A few more days of war would have meant that Gaza's only electric power station would go offline, while hospitals would run out of essential medicines. A few residential homes were struck by Israel, including one housing dozens of Palestinians with special needs. That side of the story is almost never reported.
The latest round of violence ended two days before Palestinians marked the 75th anniversary of the Nakba. On that occasion, an Arab News/YouGov survey found that 63 percent of Palestinians feel that neither Fatah nor Hamas represents them, while 75 percent of respondents have no confidence in their own leadership. This lack of trust in traditional leaderships is making room for the rise of unorthodox forms of resistance in the West Bank. Israel has to realize that its decades-long occupation is radicalizing generations of Palestinians and that the cycle of violence and counterviolence is doomed to continue.