Hulusi Akar: Turkish forces is Not a "Foreign" Power in Libya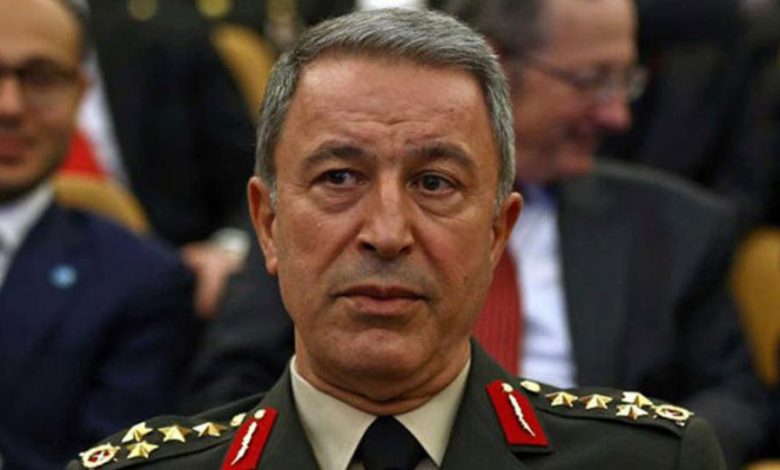 After his controversial and unannounced visit to Mitiga on Friday, without informing Libyan authorities at the airport and without the presence of Libyan security, Turkish Defense Minister Hulusi Akar went on damage control mode to explain away the serious breach of protocol on Libyan soil.
Akar said in statements today, reported by the pro-Islamist Libya Al-Ahrar channel which broadcasts from Turkey and is funded by Qatar, that Turkey came to Libya to carry out "military, educational and advisory cooperation" activities in accordance with what he described as "bilateral agreements".  He said Turkey seeks to bring Libya to the level of self-sufficiency, as he put it.
AKAR'S MITIGA SCANDAL
There was controversy yesterday, Friday, when the Turkish Foreign Minister Hulusi Akar landed at the Mitiga Military base without informing Libyan authorities and without any Libyan government protocol officers or its armed forces being present.
There was condemnation from Libyans which accused Hulusi Akar and the Turkish government of a breach of protocol and complete disrespect for Libya's sovereignty. They have demanded the GNU and the Presidential Council for a formal explanation for this breach by Akar.
A source at Mitiga Airport told our reporters that the airport authorities we not informed of the visit by the government, the Presidential Council or even the Turkish Embassy.
Akar met with behind closed doors with his Turkish officers at their headquarters at Mitiga military base.
ILLEGAL BILATERAL AGREEMENTS
The "bilateral agreements" he was referring to are the security and maritime delimitation MOUs signed by Erdogan with Fayez al-Sarraj, which are considered illegal and null and void by the Libyan Parliament and also contravene international law.
Akar added: "We continue to provide training, assistance and advisory support to the Libyan forces to reach international standards, and our goal is the unity, safety and stability of Libya."
He did not clarify whether sending more than 10,000 mercenaries from Syria to Libya and establishing bases at al-Watiya and Mitiga, and at al-Khums, was part of the "support" that is presumably supposed to adhere to international standards.
As is typical of Turkish and pro-Islamist talking points, Akar blamed "Haftar and his supporters", as he put it, for all problems, and said that Libya belongs to the Libyans and his country will continue to stand by them and support them.
Pro-Turkish media in Libya has remained silent on the serious breach of protocol and disrespect for Libya's sovereignty take took place on Friday when Akar landed at Mitiga without informing the Libyan authorities. The interim government or the Presidential Council have yet to comment on the scandal at Mitiga.
ALL FOREIGN FORCES AND MERCENARIES MUST LEAVE
The Minister of Foreign Affairs of the interim Government of National Unity (GNU), Najla al-Mangoush, affirmed her rejection this week once again when she said during the visit of UK's Minister for Middle East and North Africa, James Cleverly, that presence of any foreign bases for any country inside Libya. She said Libya will not serve as a regional base for any country.
The latest actions and statements by the Turkish authorities indicate its unwillingness to accept the decision by Libyan authorities that all foreign forces and all mercenaries must leave Libyan soil without exception. This was the decision of the 5+5 Joint Military Commission, and it was reiterated publicly several times by the Foreign Minister Najla al-Mangoush, and affirmed by the UN Security Council, and also the international community.
This message was also reiterated by US Ambassador and Special Envoy to Libya, Richard Norland, who during his visit to Cairo, said the departure of all Turkish forces, Russian forces called Wagner, as well as Syrian, Chadian, Sudanese and other fighters on both sides of the conflict, need to leave the country—an essential step for Libyans to restore Libya's sovereignty.