Humanitarian aid begins to flow from Egypt to Gaza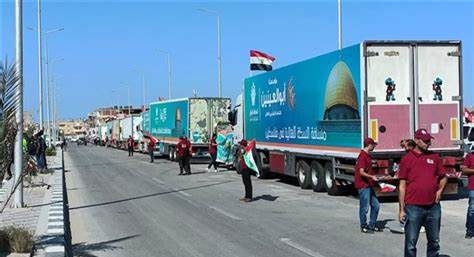 The crossing, located between Egypt and Gaza, opened on Saturday to let desperately needed aid flow to Palestinians running short of food, medicine and water in the territory that is under an Israeli siege.
More than 200 trucks carrying roughly 3,000 tons of aid had been positioned near the crossing for days waiting to head into Gaza.
Hundreds of foreign passport holders also waited to cross from Gaza to Egypt to escape the conflict.
The war, which is in its 15th day on Saturday, is the deadliest of five Gaza wars for both sides.
Israel blockaded the territory and launched waves of punishing airstrikes following the October 7 rampage by Hamas militants on towns in southern Israel.
Many in Gaza, reduced to eating one meal a day and without enough water to drink, are waiting desperately for the aid.
Hospital workers were also desperate for medical supplies and fuel for their generators as they treat huge numbers of people wounded in the bombings.
The Hamas-run Gaza Health Ministry said Friday that 4137 Palestinians have been killed and more than 13,000 others wounded.
More than 1400 people in Israel have been killed, mostly in the initial attack on October 7 when Hamas militants stormed into Israel. In addition, 203 people were believed captured by Hamas during the incursion and taken into Gaza, the Israeli military has said.