IOF Launches A series of Raids in The West Bank
Al-Aqsa Martyrs' Brigades had claimed responsibility for a shooting operation that targeted the "Tzofim" occupation checkpoint.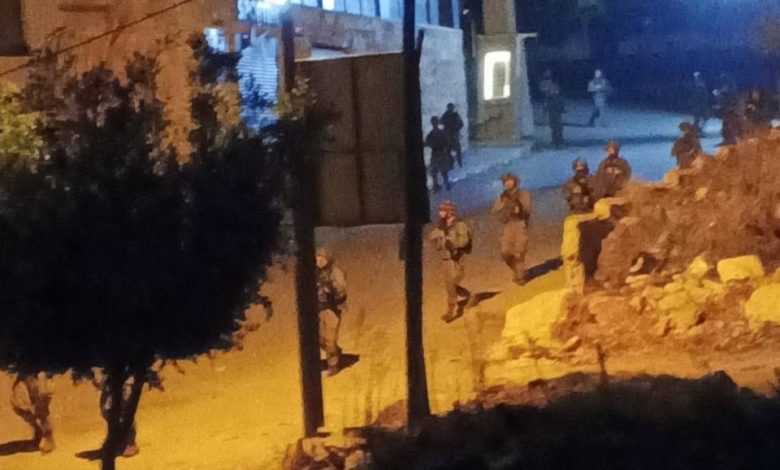 The Israeli occupation forces launched a series of raids into cities and refugee camps in the West Bank and towns in occupied Al-Quds from the early hours of Friday.
They first started by raiding the towns of Anata and Hizma, northeast of Occupied Al-Quds. Additionally, they also invaded the Aida refugee camp in the city of Bethlehem.
The Palestinian Red Crescent issued a statement saying that Palestinian ambulance teams that rushed into the Aida refugee camp to assist an injured person were prevented entry by the IOF and that they were physically assaulted by them. 
The IOF also arrested several young men during their raid into the Askar Camp east of Nablus. The raiding IOF soldiers were confronted by local forces who employed an IED (Improvised Explosive Device) to target the raiders.
In Qalqilya in the West Bank, the occupation forces fired flares in the eastern part of the city after a shooting operation that targeted the "Tzofim" checkpoint. The Al-Aqsa Martyrs' Brigades had claimed responsibility for the operation, which left several IOF soldiers injured.
IOF targeting former prisoners
In the Jalazone camp north of Ramallah in the central West Bank, the IOF arrested former prisoner Zaidan Hattab from his home in the camp.
Simultaneously, confrontations erupted between Palestinian youths and occupation forces that attempted to invade the town of Beit Furik east of Nablus.
The occupation forces also conducted various raids in the town of Jaba, south of Jenin in the northern West Bank.
In Arroub camp, north of Al-Khalil, the IOF conducted several arrests after raiding the camp. 
In Al-Khalil in the southern West Bank, the Israeli occupation forces bombed the houses of the two imprisoned brothers, Mohammad and Saqer al-Shantir.
Potential intifada in West Bank
Israeli media has conveyed growing apprehension within Israeli security and military institutions regarding the potential outbreak of an intifada in the West Bank.
Shirit Avitan Cohen, the diplomatic affairs correspondent and political analyst for the newspaper Israel Hayom reported that during a meeting on Tuesday with the heads of settlement councils in the West Bank, additional insights into "Israel's" readiness for any escalation on a third front, beyond Gaza and Lebanon, were disclosed.
Sources involved in evaluating the situation have indicated that there is an expectation for individuals to carry out operations against settlers on the streets. This heightened concern is fueled by the absence of over 100,000 Palestinian workers from the West Bank, who have refrained from entering "Israel" since the Jewish holidays.
Cohen indicated that the anticipated scenario involves "an intifada in the heart of Israel against the settlers," revealing heightened concerns and preparations within Israeli circles for potential unrest in the region.