Iraq stares into the void as public frustration grows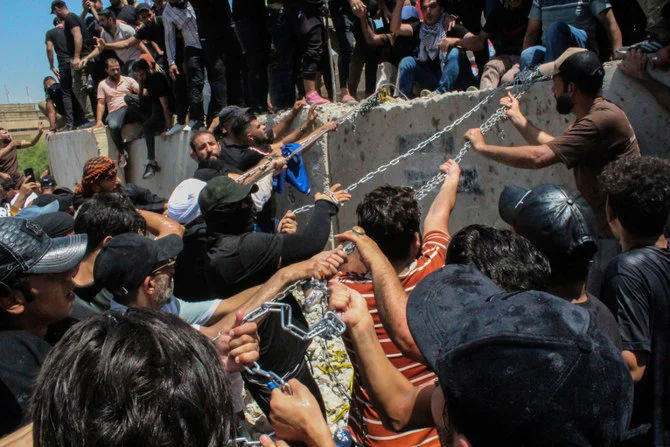 On Wednesday, protesters stormed the Iraqi parliament in the Green Zone in Baghdad, removing blast walls and crowding into the fortified area while chanting anti-Iran slogans.
The Green Zone itself, for all its purported benefit in maintaining a semblance of a functioning government in a troubled land, has become an enduring vestige of Iraq's punishing past four decades, starting with the disastrous eight-year war with Iran about 42 years ago, and followed by crippling sanctions in the 1990s, a US-led invasion in 2003, the rise of transnational terrorists after 2014 — and now capped off by almost permanent gridlock, while the rest of the country languishes.
Beyond the ravages of war, internal strife and repression, Iraq's challenges also include sporadic sectarian violence and the recurring threat of Kurdish separatism. Meanwhile, in Baghdad, political squabbles are rampant, compounded by internal fiscal pressures, intense rivalries, and limited institutional capacity that has become a major roadblock to initiating reforms, strengthening governance and subduing corruption.
On a broader level, Iraqi politics, society and the economy have experienced drastic shifts in recent years, ratcheting long-standing grievances and tensions, fueling the public's distrust of each new iteration of the "state," and exacerbating sectarian violence south of the capital. Addressing these challenges remains critical to the long-term stability of Iraq and even the wider region, but growing US disinterest in the region will likely force these changes to come from within rather than being engineered outside and forced onto Iraqis.
Unfortunately, despite major hydrocarbon endowments, the "defeat" of Daesh, and a still palpable US security presence, Iraq has consistently failed to re-assert itself, drive national cohesion and restore public confidence in government for almost two decades.
For most observers, the protests on Wednesday were an attempt by followers of firebrand Shiite cleric Moqtada Sadr to derail the long-delayed process of forming a government by blocking the nomination of Mohammed Shia Al-Sudani for prime minister.
However, in a land where half of the 40 million population lives in poverty, with four out of every five youngsters out of work, and about a fifth of the inhabitants in dire need of humanitarian assistance, it should come as no surprise that some Iraqis will take to the streets to demand change of any sort.
Whether those demands will be met after protesters occupied the parliamentary chamber is difficult to say.
For some, this latest move is merely a maneuver by Sadr's followers, or "Sadrists," to upend the political map, much like his withdrawal on June 9 after the passing of a controversial $17 billion food and security development bill.
Sadr, who rose to prominence as a leading figure in an armed struggle against US forces, has developed a reputation for political stunts, such as asking 73 lawmakers in the Sadrist Movement to tender their resignations after months of failure to oversee government formation. In turn, each new stunt has only carried Iraq deeper into political uncertainty and stalemate.
While the end-goals of Sadr's maneuverings are often difficult to decipher or discern, the recent protests and earlier resignations mean the next government will be quite weak.

Hafed Al-Ghwell
Before the months-long political crisis that culminated in the latest protests, the Sadrists were on track to control the Iraqi parliament after winning the most seats in October elections last year. Sadr quickly joined with the Kurdistan Democratic Party, led by Masoud Barzani, and Speaker Mohammed Al-Halbousi's Sunni Taqaddum coalition in a bid to form Iraq's first majority government.
The move contrasted with the rival Shiite bloc's angling for a national unity government, at the behest of former Prime Minister Nouri Al-Maliki's State of Law coalition that holds the most seats in the Shiite Coordination Framework. The group remains mostly dismissive of Sadr's maneuvering and tirades against foreign influence, seeing him as a rogue who will eventually be brought to heel within the loose group of Shiite political parties, which Iraqi observers and analysts believe is an attempt by Tehran to consolidate "friendly" political elements within its troubled neighbor.
Unfortunately, given Iraq's ethno-sectarian power-sharing model designed to improve access and representation for lesser-known parties, simply winning a majority of seats is not enough to control parliament. Take, for instance, Sadr's failure to form a government. This was mostly due to the Shiite Coordination Framework blocking the selection of the president, which is also part of the government formation process.
This system is a classic example of how the most well-intentioned ideas on paper often translate into the worst dilemmas in reality, especially in fragile, conflict-prone countries — and, as always, it is the average citizen who pays the price.
It is still too early to determine whether the protests will materially affect the now Shiite Coordination Framework-led government formation process. The Shiite Coordination Framework and the Kurds have yet to agree on who will become president — usually a Kurdish figure — before seeking a vote of confidence in parliament for the next government. So far, only one of two main Kurdish parties have expressed their support for Al-Sudani's nomination for the premiership, but the Sadrist-aligned KDP has remained silent, as if waiting to see whether recent developments will drastically shift the political calculus and how.
In addition, both parties have yet to agree on whether to renew the term of the incumbent Barham Salih, or nominate the Kurdistan Region's Interior Minister Reber Ahmed to succeed Iraq's eighth president.
It is expected that the Shiite Coordination Framework will pressure both parties to come to an agreement soon, having "successfully" resolved the most contentious issue — Al-Sudani's nomination.
Thus, on some level, it may appear as if Iraq is on the verge of forming a government despite Sadr's protestations and determination to remain a thorn in the side of what will most likely be an Al-Sudani-led government.
After all, despite his resignation from parliament, the populist cleric retains enormous influence within and across government, various industries, the national oil company and even the governorships of strategic provinces. While the end-goals of his mercurial maneuverings are often difficult to decipher or discern, the recent protests and earlier resignations mean the next government will be quite weak and unable to assert itself.
Al-Sudani's cabinet, like many others before it, will be torn between competing political interests, while a divided parliament, with no one party holding a decisive majority, will struggle to deliver on immediate priorities that require massive interventions, expenditures and mobilization of the state's still-dilapidated capacity.
Conversely, months of endless political wrangling and gamesmanship by Sadr are also taking a toll on some within his camp who are increasingly convinced that Iraqi politics have simply devolved into a circus of musical chairs for the political elite, while the streets simmer with disillusionment and rage.
• Hafed Al-Ghwell