Israel calls on the residents of Gaza City to evacu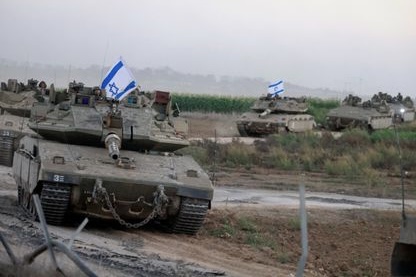 The Israel Defense Forces (IDF) is telling all civilians to evacuate Gaza City, calling for about 1 million Palestinians to move south "for your own safety and the safety of your families," with the U.N. warning the move risked "devastating humanitarian consequences."
The Israeli forces say they need civilians to leave to avoid casualties as they ramp up their attack on Hamas — which has told Palestinians to stay in place.
The evacuation call comes amid growing expectations that Israel is set to launch a ground assault on Gaza, as it seeks to wipe out Hamas militants in the wake of last weekend's devastating attacks, which killed 1,300 Israelis. Dozens of people were kidnapped and taken to Gaza.
In an announcement to residents of Gaza, the IDF said: "Hamas terrorists are hiding in Gaza City inside tunnels underneath houses and inside buildings populated with innocent Gazan civilians." Israel told civilians to "Distance yourself from Hamas terrorists who are using you as human shields."
The United Nations called on Israel to reverse course, with a spokesperson saying the evacuation "could transform what is already a tragedy into a calamitous situation."
"The United Nations considers it impossible for such a movement to take place without devastating humanitarian consequences," said Stéphane Dujarric, a spokesperson for U.N. chief António Guterres.
Meanwhile, Egypt is resisting calls for it to allow civilians to flee Gaza across its border through the Rafah crossing, with President Abdel Fattah El-Sisi telling Palestinians to "stay steadfast and remain on their land."
Israel's former National Security Adviser Eyal Hulata called on Egypt "to bear responsibility." In an interview with POLITICO, Hulata said civilians ought to be able to leave via the Rafah crossing, which is policed by Egyptian border guards. "Egypt is right there and they can absorb [refugees] into Egypt and to Sinai. Temporarily of course, because Israel does not aim at the conquering of the Gaza Strip."
The United Nations Relief and Works Agency for Palestine Refugees in the Near East (UNRWA), meanwhile, announced it had "relocated its central operations centre [and] international staff to the south" of Gaza. "We urge the Israeli Authorities to protect all civilians in @UNRWA shelters including schools," the agency said on social media.
Against that backdrop, European Parliament President Roberta Metsola and Commission chief Ursula von der Leyen are set to touch down in Israel mid-morning Friday, "to express solidarity with the victims of the Hamas terrorist attacks, and meet with Israeli leadership," according to a social media post.
U.K. Defense Secretary Grant Shapps said Israel's call for civilians to leave Gaza is "providing that warning in advance of action in order to preserve life."