Israel Deliberately Targets Journalists, Killed 46 so Far
In an effort to conceal its atrocities in Gaza, "Israel" is deliberately targeting and killing journalists working to expose its massacres against the Palestinian people.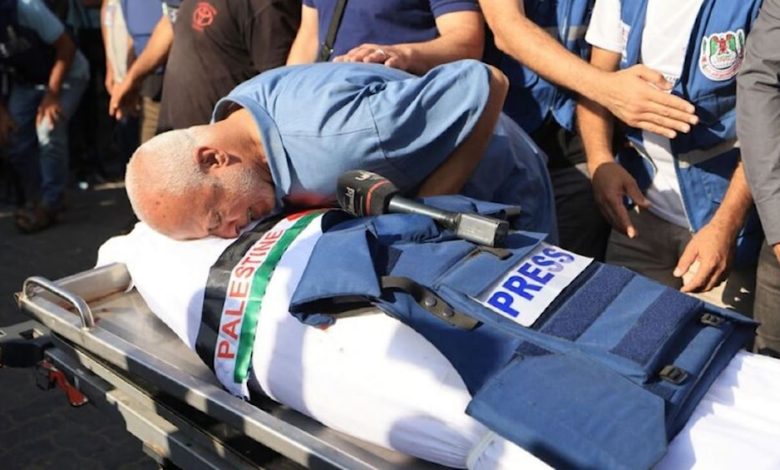 Israel Deliberately Targets Journalists relentless Israeli airstrikes on Gaza has surged, with a tragic count of 46 killed since the 7th of October, as per Government Media Office in Gaza.
It is worth noting that the journalists' bullet-proof vests and the vehicles are all marked 'press' to indicate they are journalists – protected under international law.
This comes shortly after broadcaster Palestine TV confirmed that its correspondent had been assassinated alongside his family members in an Israeli strike that targeted his home in Khan Yunis, south of Gaza on November 3.
Commenting on the killing of journalists, the Palestine Media Forum, a civil organization dedicated to the affairs of journalists in Gaza, has recently stated that without the slightest regard for international laws, conventions, and humanitarian norms that ensure the protection of journalists in conflict areas, Israeli occupation forces continue their cold-blooded executions of Palestinian media professionals.
In a statement sent to Reuters and Agence France Presse on Oct. 28, the Israeli military said it can't guarantee the safety of their journalists operating in the Gaza Strip amid the Israeli bombardment and siege of Gaza that has gone on for almost three weeks. 
It's important to note that alongside the tragic loss of journalists' lives in Gaza, Lebanese Reuters reporter Issam Abdullah was martyred earlier this month in an Israeli strike on southern Lebanon, which specifically targeted journalists and media professionals covering the Israeli aggression on the Lebanese border towns.
'Israel' rejects disclosing fate of 2 missing Palestinian journalists
The Prisoners' Information Office has recently reported that journalists Nidal Al-Wahidi and Haitham Abdulwahed from Gaza went missing on October 7 and since then, no information has been revealed about their fate.
In response to these developments, the Palestinian Journalists Syndicate strongly condemned the ongoing crimes committed by the Israeli occupation against the Palestinian people and journalists in Gaza.
According to the office, "the Israeli Supreme Court has rejected an appeal to disclose the fate of journalists Nidal Al-Wahidi and Haitham Abdulwahed."