Israel-Gaza violence: Killing blockaded civilians and destroying infrastructure on a massive scale
The UN says 10,000 Palestinians have been forced out of their homes in the Gaza Strip, as the death toll from Israeli strikes on the enclave reaches 137 martyrs.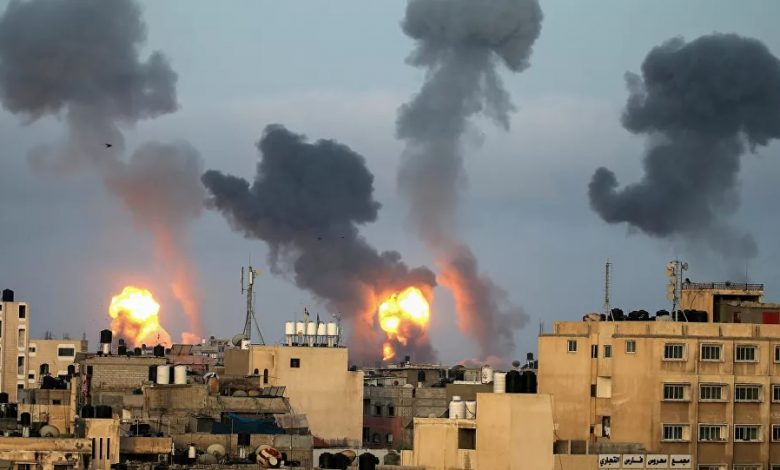 Israeli occupation bombardment of the Gaza Strip entered its sixth consecutive day, with air raids hitting a refugee camp – killing at least 10 Palestinians, including eight children.
In a televised speech Israeli Prime Minister Benjamin Netanyahu said Israel will continue to strike Gaza.
The occupation warplanes lunched after midnight a series of violent and unprecedented airstrikes targeting several locations in Gaza City, killing two people and injuring dozens  others, said sources.
At least two people were killed and dozens more were injured, mostly children and women, in the violent airstrikes that targeted the entire western part of Gaza city.
Israel fired at least 20 missiles targeting various other areas in the city and its center, including al-Rimal, Tal al-Hawa, and Sheikh Ajlen areas.
At least 50 Israeli occupation airstrikes were reported in the latest aggression last night, which mainly focused on the densely populated Al-Rimal neighborhood in Gaza City and the south and west quarters of the city.
The intensive shelling caused massive destruction to the targeted areas, including to civilians' houses and properties, and a complete blackout in the northern Rimal neighborhood of Gaza City.
The Gaza Strip has been under a relentless Israeli occupation aggression from the land, air and sea for seven days now. Entire buildings, including residential towers, have been levelled to the ground by Israeli warplanes, and dozens of innocent families were mercilessly massacred by fighter jets during the onslaught.
The death toll is expected to rise, as another series of Israeli occupation warplanes assaults hit the Shati refugee camp in Gaza killing at least two women and seven children, while burying several others in the rubble. At least 15 others were injured, including an infant named Omar.
Another air raid also reportedly hit a house in Khan Yunis.
Thousands of Palestinian families have taken shelter in United Nations-run schools in northern Gaza to escape Israeli artillery fire. The UN has said it estimates approximately 10,000 Palestinians have left their homes in Gaza amid the Israeli offensive.
Despite international calls for an immediate halt of all hostilities, including from United Nations chief Antonio Guterres, Israel Prime Minister Benjamin Netanyahu pledged the offensive will continue "as needed to restore calm in the state of Israel".
Hamas fired another barrage of rockets towards Israel, hitting the city of Ashdod early on Saturday.
At least eight people in Israel have also been killed, according to Reuters news agency. The Israeli occupation army said hundreds of rockets have been fired from Gaza towards various locations in Israel and they have added reinforcements near the enclave's eastern lands.
Meanwhile, violence is brewing between Israeli settlers and Palestinian citizens in the occupied West Bank, as well as in Israel.
At least 11 Palestinians have also been killed by Israeli security forces in the occupied West Bank.
Relatives of the Abo Hatab family mourn over the bodies of their family members in Al-Shifa Hospital, after an Israeli air strike struck their house located in al-Shati Refugee Camp without warning late on Friday