Israel increasingly resorting to administrative detention of Palestinians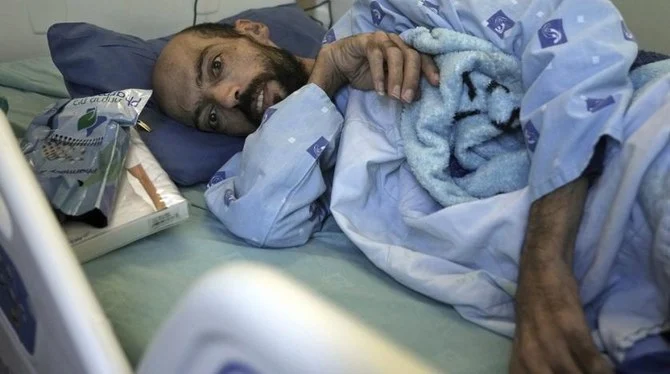 Israel Israel Israel Israel Last week, Khalil Awawdeh, a 40-year-old Palestinian father of four from the occupied West Bank, ended a six-month hunger strike after Israeli authorities agreed to have him released from administrative arrest.
Medical doctors and lawyers had warned that Awawdeh was at risk of dying, as his weight had dropped to 37 kg and he was already suffering from severe neurological damage. His case highlights the wider and disturbing phenomenon of administrative detainees, who spend prolonged periods behind bars without being convicted of any crime and without charges being brought against them. At best they are suspects, as is Awawdeh, who Israel claims is a member of Islamic Jihad, an allegation he denies.
In the world of euphemisms, "administrative detention" ranks high among those concealing a gross violation of human rights — that is, the imprisonment of people for a possibly indefinite period simply because the Israeli authorities lack the necessary evidence to conduct their case through the due legal process. Hence, the NGO Movement for Freedom of Information in Israel, and Tal Frank, a law student, deserve a big shout-out for taking legal action to force the state to reveal the number of Palestinians currently held under administrative detention. The figure is worrying: 723 detainees, which represents a 14-year record, not one to boast about, particularly for a country that proudly describes itself as a democracy.
Among the pillars of any justice system are presumption of innocence until proven otherwise and that guilt being decided by a court of justice. For these 723 Palestinian detainees — 11 of them Arab citizens of Israel — presumption of innocence has been thrown out the cell window, in some cases for a lengthy period. This despite the fact that in the eyes of the law they have not committed any offense. At best there may be some evidence collected by the security forces, but this has not been considered by a court in front of a judge, and certainly not with full transparency.
The Israeli government has, to state the obvious, a duty of care toward its people and must defend them from acts of militancy. Nevertheless, in the Israeli psyche, all forms of resistance, violent or peaceful, to its 55 years of oppressive occupation are illegal, and administrative detention is used not only to curb the armed struggle, but also as part of an overall strategy to deter Palestinians from their legitimate fight for self-determination, as well as the right to live free and with dignity.
By any definition of due process, let alone justice, the approved procedure of administrative detention smacks of a shady operation whereby a person is incarcerated for months, sometimes years, without an indictment, let alone a conviction. All it takes to deprive a Palestinian of his or her freedom is for the commander of the Israel Defense Forces Central Command to sign a confidential intelligence report, of which only a brief summary is shared with the detainee's lawyer, and then for a judge to sign it, and all this without the detainee being present.
Even in a perfect world where the security forces are always professional and truthful, natural justice demands that a person who is detained and whose freedom is under threat should at least be able to contest any accusation against them. This is because there is always the possibility that a genuine mistake has occurred or, worse, that they are the victim of some vicious ploy to remove them from society because they are "inconvenient" to the occupation force or its Palestinian collaborators.
By its very definition, administrative detention is a preventative move, hence should be utilized only on rare occasions to avert an imminent threat. After questioning, a decision should be made on whether the evidence merits pressing charges and, if not, the suspect should be released without delay.
Due to a lack of credible evidence, or the arbitrary and arrogant attitude of those who are in complete control of millions of people in the West Bank, the occupation authorities have devised mechanisms that enable them to impose their will as they see fit. Under a vaguely titled provision of an "Order Regarding Security Provisions," Israeli forces generally take unacceptable measures, including conducting hundreds of military raids on Palestinian villages and towns, many at night, photographing homes and their occupants, and frequently arresting someone in front of their intimidated and traumatized family, usually with children present.
When it comes to administrative detention, military commanders have the power to hold people for up to six months at a time, based on their judgment of the security threat the detainee poses. But it does not end there, as these orders can later be extended for a further six months if the commander has "reasonable grounds to believe" that the same reasons "still require the retention of the detainee."
Unacceptable by any international legal standard, this charade of due process can be repeated indefinitely, although in most cases imprisonment lasts between six months and two years.
Considering that these individuals have not been convicted of any offense, the real crime here is being committed by those who are depriving them of their basic human right as per Article 2 of the Universal Declaration of Human Rights, which states that "everyone is entitled to all the rights and freedoms," and that "no distinction shall be made on the basis of the political, jurisdictional or international status of the country or territory to which a person belongs, whether it be independent, trust, non-self-governing or under any other limitation of sovereignty."
Administrative detention is the ugly face of the Israeli occupation that utterly disregards people's rights with impunity.

Yossi Mekelberg
When it comes to dealing with Palestinians in Gaza and the West Bank, Israel is making a mockery of the notions of universal human rights and respect for humanitarian law. At best, such rights are usually ignored in the name of a simplistic and repressive perception of security.
Administrative detention is the ugly face of the Israeli occupation that utterly disregards people's rights with impunity. It is not the only example, but faced with Israel's intransigence, the tragedy is that hardly anyone in the international community is prepared to voice their displeasure at the situation and call on Israel to put an end to these practices immediately.