Israel is creating an explosive situation in Al-Aqsa
Israeli efforts to change the status quo at religious sites in Jerusalem could trigger a regional conflict.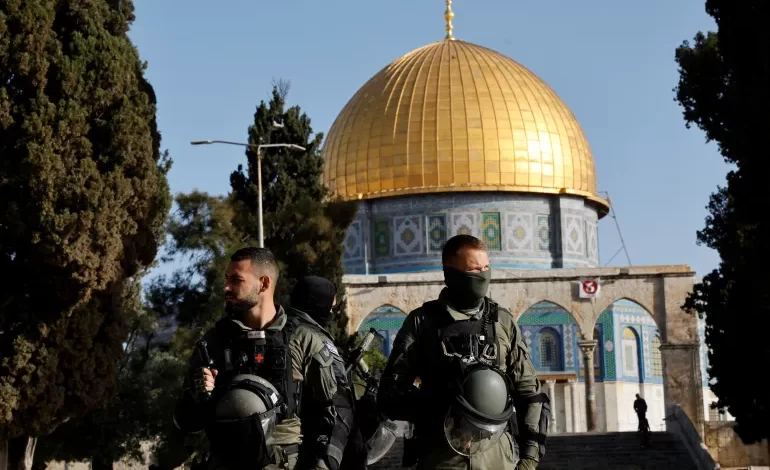 On April 5, shocking footage emerged from occupied East Jerusalem's Al-Aqsa Mosque of Israeli security forces mercilessly beating Palestinian worshippers. The brutal violence left at least 12 Palestinians injured at Islam's third holiest site and fuelled public anger.
Rockets were fired from Gaza and Lebanon as a warning against further escalation, but Israel did not listen. The following day it repeated the violent attack on al-Haram al-Sharif, where Al-Aqsa Mosque is located, and carried out air raids on Gaza and Lebanon.
By now it is quite clear that American efforts to prevent another escalation in Palestine are failing. And once again, it is not the Palestinian side that is responsible.
Israeli Prime Minister Benjamin Netanyahu's desperate bid to cling to power is not conducive to any de-escalation Washington may desire and is bound to accelerate processes that could ultimately trigger violence and instability well beyond occupied East Jerusalem.
US diplomacy failing
For more than a year now, tensions in the occupied Palestinian territories have been high. Armed Palestinian resistance has been active, especially in Jenin and Nablus, while the Israeli security forces have carried out incessant violent raids of Palestinian towns and villages.
The United Nations called 2022 the deadliest year for the occupied West Bank in the past 16 years, as the Israeli army killed at least 170 Palestinians, including 30 children, and injured at least 9,000. The first two months of this year have been the most violent since 2000, with 65 Palestinians killed, including 13 children.
This year, the Muslim holy month of Ramadan coincides with the Jewish holiday of Passover. So it was apparent that this time of year would be another potential flashpoint for violence. Hoping to preclude a major escalation, which would distract attention from the war in Ukraine, two regional meetings were held under United States tutelage to negotiate measures to calm the situation.
On February 26, Palestinian, Israeli, Jordanian, Egyptian and American officials met in the Jordanian port city of Aqaba. The joint communique issued after the summit emphasised a commitment to "de-escalation on the ground … to prevent further violence" and an Israeli pledge to stop authorising new illegal settlements in Palestinian territories for six months.
On March 19, another meeting was held in Sharm el-Sheikh, where the Palestinian and Israeli officials committed to uphold the status quo of the holy sites in Jerusalem "both in words and in practice" and emphasised the "necessity of both Israelis and Palestinians to actively prevent any actions that would disrupt the sanctity of these sites, inter alia during the upcoming Holy Month of Ramadan".
But Netanyahu's government has been upholding the status quo neither in words nor in practice. The Israeli prime minister is allied with far-right and ultra-religious forces which have openly stated that the Israeli recognition of the Jordanian guardianship of the holy sites was an historic mistake which they are bound on rectifying.
Ben-Gvir and the other extremists in government are Netanyahu's only chance to stay in power and avoid going to jail for corruption. They know that, and are taking advantage of the situation to support with all means possible the violence Jewish settlers have unleashed onto Palestinians in the occupied West Bank and to continue eroding the status quo at the holy sites with the aim to establish new facts on the ground – ie, full Israeli control.
Netanyahu does not necessarily mind. For him, the violence is a useful distraction from the anti-government protests which have plagued his sixth term in office.
'A religious war'
It is quite apparent that war is not in Israel's interest. It is currently preoccupied with the Palestinian resistance in the West Bank. It is worried about Iran's military presence and diplomatic successes in the region. It has been striking Syria regularly, seeking to curb Iranian influence and is concerned about Hezbollah's role in a recent roadside bomb explosion near the border with Lebanon.
Whether Netanyahu would listen to the Israeli security establishment is another question.
On the other side, Hamas in Gaza has tried to take a measured response. It has warned Israel against further raids on Al-Aqsa. It is reluctant to escalate as this could take attention away from the Palestinian resistance in the West Bank, which Hamas sees as the main arena of conflict with Israel. Armed attacks in the occupied territories cause much more anxiety to the Israeli authorities than a confrontation with Gaza.
Hamas's strategy now is to encourage a popular Palestinian mobilisation in the West Bank, Jerusalem and Israel in order to serve as a barrier to further encroachment on Al-Aqsa Mosque.
That said, Hamas may also find itself under pressure to act decisively, especially if Israel's brutal violence against worshippers continues. The Palestinian people have already reacted angrily at the weak condemnations issued by the Palestinian Authority and its inaction.
The Hamas leadership would not want to be perceived as passive and may feel compelled to abide by popular demand to take a tougher stance and intensify rocket fire towards Israel.
Thus a repeat of the 2021 war on Gaza, which was also triggered by Israel's raids on Al-Aqsa Mosque, may take place. But an escalation beyond that is also on the horizon.
There have been repeated warnings that Israel's actions in the holy sites could trigger a "religious war". In January, Jordanian Ambassador Mahmoud Daifallah Hmoud told the UN Security Council that Israeli attacks on al-Haram al-Sharif are provoking "the feelings of nearly two billion Muslims" and could spark a "religious conflict".
There is growing concern that with its aggressive actions in Al-Aqsa, Netanyahu's government is seeking to impose restrictions on Palestinians' access to the holy site, the way it was done with the Ibrahimi Mosque in Hebron. The latter was divided by the Israeli authorities into sections that Muslims and Jews can visit to supposedly prevent further violence after a Jewish settler opened fire on Muslim worshippers, killing 29 in 1994.
Imposing these measures in the Al-Aqsa compound would be a clear violation of the status quo, under which non-Muslims are allowed to visit only at certain hours and are not allowed to pray inside.
So far there have been only condemnations issued by Arab states, the European Union and the US. What Arab and Western capitals do not understand is that unless there is a harsh response to Israeli actions now, Netanyahu's far-right allies will only be emboldened to go even further in their efforts to take over Muslim (and Christian) holy sites and settle.
Their aggression in al-Haram al-Sharif is turning it into a detonator that sooner or later will blow up the whole region.