Israel Police Crack Down on Protests Against Judicial Reforms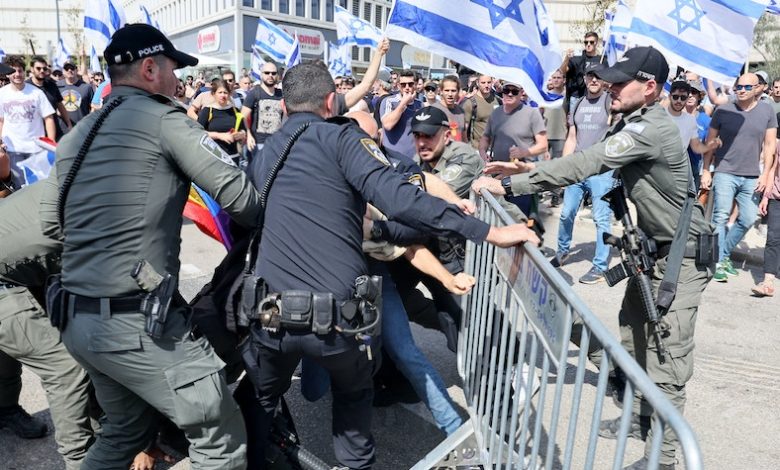 Israelis protesting against contentious judicial reforms are blocking roads and railways in a "day of disruption".
In Tel Aviv, police used stun grenades and water cannon, and were filmed kneeling on the neck of a demonstrator as he was detained.
The protesters believe the sweeping changes being pushed through parliament will undermine judicial independence and threaten democracy.
Ministers say they will restore balance between the branches of government.
They have described the protesters as "anarchists".
Live footage from Tel Aviv showed a number of scuffles as police dragged away demonstrators. Officers on horseback tried to stop some breaking through barricades.
Speaking on Israeli Channel 13 TV, one protester called Zeev commented: "This is terrible violence, no-one touched the policemen. We were in a protest of civil people. We didn't expect such a thing. We are here to support democracy."
However, the far-right National Security Minister, Itamar Ben-Gvir, said police had been "very patient" and had barriers and stones thrown at them.
He backed the measures being used, saying the force "must use all the means at its disposal to maintain public order and the daily routine of Israeli citizens".
Prime Minister Benjamin Netanyahu wrote on Twitter: "The right to protest is not the right to anarchy."
Changes to the justice system are a cornerstone of the policy of Israel's new nationalist-religious coalition led by  Netanyahu.
In parliament, which is in Jerusalem, members of the opposition boycotted a vote by the constitution, justice and law committee as it gave initial approval to more proposals in the judicial reforms plan.
They aim to give the elected government decisive influence over the choice of judges and limit the ability of the Supreme Court to rule against the executive or strike down legislation.
Critics say that this endangers the political system of checks and balances, given that Israel has no constitution and only one parliamentary chamber that is controlled by the ruling coalition.
Tens of thousands of people have turned out for weekly mass rallies against the new legislation in recent weeks.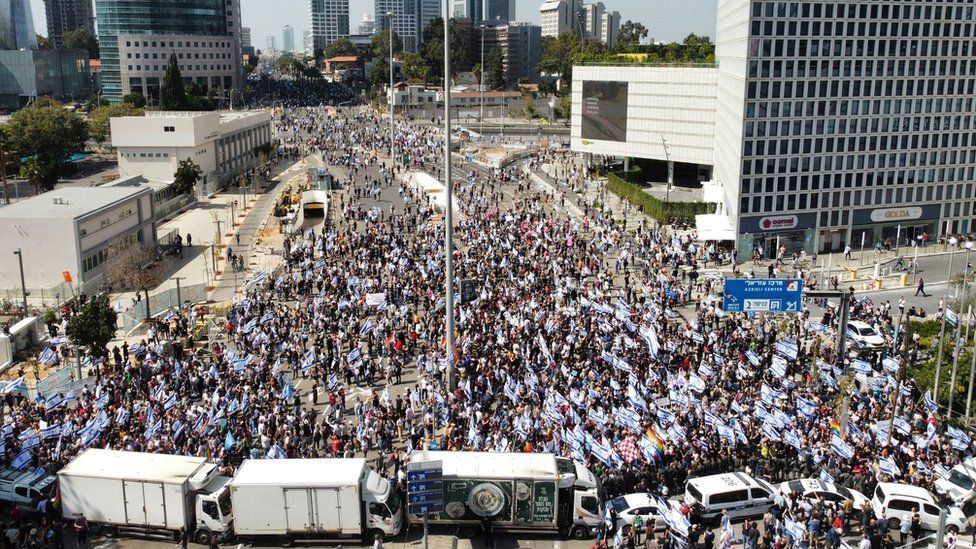 At times on Thursday, protesters brought traffic to a halt on the busy main route between Tel Aviv and Jerusalem.
Many waved the blue and white Israeli flag. Shouts of "democracy" went up and "Israel is not a dictatorship, Israel is not Hungary" – whose right-wing nationalist prime minister, Viktor Orban, has been accused of undermining democratic institutions, including the judiciary.
Polls have suggested the government's plan is not popular and most Israelis would prefer a compromise to be reached.
President Isaac Herzog, who serves in a mainly figurehead role, has been pushing for dialogue between the government and the opposition, warning that the country is on the brink of "constitutional and social collapse".
Many of Israel's foreign allies have expressed concern about the new legislation.
"Slow down a little a bit, maybe bring people together, try and build some consensus," US ambassador to Israel Tom Nides said this week.
Meanwhile, veterans of an elite Israeli military intelligence unit, Unit 8200, have joined a growing list of army reservists threatening to refuse to perform reserve service in protest.
"It's completely unusual," one reserve officer told the BBC. "We tend to remain impartial in these matters but it's not a routine political debate. It's a dramatic change. We are worried that our crucial principles of democracy will be completely ruined."
Workers in high-tech, lawyers and bankers have also expressed alarm about the impact, including on the economy.
Mr Netanyahu – who is on trial for corruption, which he denies – says the changes will boost business.