Israel's Jenin raid places PA's uncertain future in the spotlight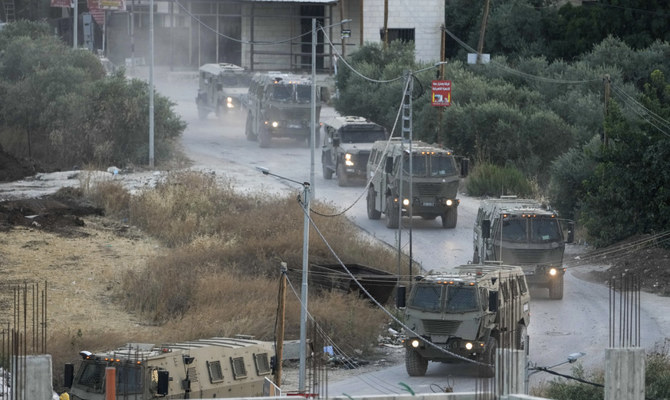 As Israeli drones pounded the beleaguered Palestinian refugee camp of Jenin late on Sunday and throughout the following day, while more than 1,000 heavily armed soldiers moved into the crowded home of more than 10,000 civilians, destroying buildings as armored bulldozers gutted the narrow streets, the world watched, live on TV, a heinous war crime being committed in cold blood.
More than 3,000 residents have been forced to evacuate their homes, while at least 10 Palestinians have been killed and more than 50 injured. The US said Israel had the right to defend itself, never mentioning that Israeli soldiers were in fact in Jenin and the West Bank as an occupying power.
By Tuesday morning, harrowing images and footage of the scale of destruction were posted on social media: Jenin had turned into a modern-day Guernica.
While the Israeli rampage went on, one question kept popping up as pundits struggled to explain the ramifications of this major operation: How would Palestinian President Mahmoud Abbas react?
Less than two weeks ago, a mob of settlers rampaged through the small Palestinian town of Turmus Ayya in retaliation for the killing of four of their own.
One Palestinian was killed, dozens of homes were torched and cars and properties were vandalized, all while Israeli soldiers watched and did nothing. This was not the first time that armed settlers had attacked Palestinians, incited by a far-right minister in Benjamin Netanyahu's government, the racist and convicted ultranationalist zealot Itamar Ben-Gvir.
Abbas, who has ruled over the Palestinians since 2005, had nothing to say.
Since the beginning of this year, more than 100 Palestinians have been killed, mostly young men, while Israel's most right-wing government unveiled one settlement expansion deal after another.
With the Palestinian Authority doing nothing to protect its people, Palestinian youths turned to armed resistance. Tens of solitary, nonfactional operations were carried out against Israeli settlers.
Jenin camp and Nablus became hotbeds of resistance and a majority of Palestinians were behind them. The old guard, represented by Fatah, was losing ground. Palestinians in the West Bank had lost trust in the PA and wanted an alternative.
After a period of mystifying silence, Abbas on Monday night called on all factions to meet and later announced — not for the first time — that the PA was severing all ties with Israel, including security coordination. Few believe he will carry out his threat.
This was a watershed moment in the life of the almost 30-year-old PA — a product of the Oslo Accords that was supposed to last for less than five years before handing over the reins to an independent Palestinian state. Now, both Abbas, at 87, and the PA are feeling the aches of old age.
Abbas' succession has been a feature issue for a number of parties that have a vested interest in what fate awaits the PA once he is gone. Of late, the Israelis have been debating the matter among themselves and with the US in particular. Other parties also worried about the eventual outcome include Jordan, Egypt, Qatar and the EU — all for different reasons.
With the Palestinian Authority doing nothing to protect its people, Palestinian youths turned to armed resistance.

Osama Al-Sharif
Abbas, who was elected for one five-year term but who has never named a successor or held elections since he came to power in 2005, has never been a charismatic leader.
He was a bureaucrat while his predecessor, Yasser Arafat, was fighting in the trenches. The grand aura of revolutionary Arafat, especially among the older generations, eclipsed a more demure leader who was less ambitious, less tenacious and less confrontational. The fate that haunts any leader is when he loses touch with the younger generation.
Even if Abbas were to go ahead and carry out his threat to end all coordination with Israel, that would do little to save the PA. There are at least two realities that would act against him: An extremist Israeli government that is bent on crushing armed Palestinian resistance, while accelerating a plan to colonize what is left of West Bank territory, and an angry citizenry that is becoming increasingly supportive of armed struggle.
The former is not about to change any time soon. But the latter is exceptionally dangerous. Hamas, the PA's rival, is growing roots in the West Bank and, even if younger Palestinians are not joining its ranks in droves, they are opting to organize at cellular and grassroots levels to wage war against the occupier.
The PA, perceived as corrupt and dependent on Israel, is unlikely to survive post-Abbas. That is why the succession issue is so important and irrelevant at the same time. While Israel and the US, along with Jordan and Egypt, would want to see a smooth transition, the reality is that no candidate has the necessary credentials to keep the ship afloat.
The names being circled include Hussein Al-Sheikh, secretary-general of the Executive Committee of the Palestine Liberation Organization; Majed Faraj, the PA's intelligence chief; and Nasser Al-Qudwa, a former foreign minister and a nephew of Arafat, who challenged Abbas in the aborted 2021 legislative elections as the leader of a Fatah splinter group allied with Marwan Barghouti. There are other potential contenders, such as Jibril Rajoub, Mohammed Dahlan, Salam Fayyad and Barghouti himself.
Each and every contender has issues and it is impossible for all parties concerned to agree on one. But while Israel, the US and others examine such names, they tend to ignore the fact that a new generation of Palestinians is emerging and that it has its own agenda and plan. Those confirmed killed in the Jenin operation so far are mostly below the age of 20.
They represent a generation of Palestinians that has nothing to do with the PA, its leader or any other contender that is likely to succeed Abbas.
Israel also has a huge problem. Netanyahu, who is no fan of the two-state solution, spoke recently of the need to support the PA while crushing Palestinian aspirations for statehood.
For most West Bankers, the PA is an outdated body, while for Israel it represents a fig leaf, behind which it can hide its steady annexation of Palestinian lands. But with Israel's colonization project now clear, the PA's ability to fulfill the utilitarian goal of keeping the Palestinians under control, which is what Netanyahu seeks, is doubtful.
For almost 30 years, the PA has helped normalize the occupation while Israel projects to the world, with disgraceful US collusion, that it is fighting terrorists in the land it illegally occupies. Hopefully, Abbas' departure from the scene will change all that.