Jailed presidential candidate Karoui would challenge election outcome
Tunisian presidential candidate Nabil Karoui, speaking from prison in an interview with The Arab Weekly, says he would challenge a victory by rival Kaies Saied as his arrest breached "the principle of equal chances".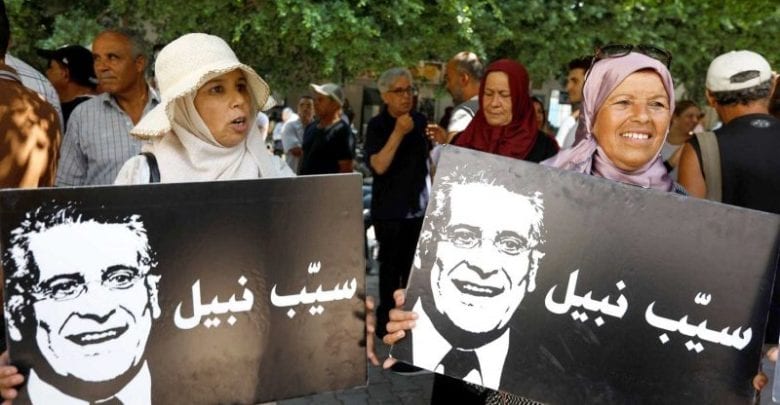 Tunisian presidential candidate Nabil Karoui, speaking from prison, vowed to challenge the results of the election if "any other candidate" wins because, he said, he has been deprived of his rights to campaign.
"In the case of a win by the other candidate, I'm going to contest the results as they breach the principle of equal chances, which is the only guarantor of the credibility of the election results, " Karoui told The Arab Weekly, answering questions relayed by his lawyers to him at Mornaguia Prison.
Karoui, in jail since August 23 on charges of money laundering and tax evasion, finished second in the field of 26 candidates in the first round of Tunisian presidential elections September 15. Conservative jurist Kais Saied won the first slot for the October 13 runoff.
"I wasn't given the chance to communicate my programme and I was prevented from doing it by a court order, the timing of which was suspicious. It simply amounts to muzzling me and forbidding me to interact with voters," Karoui said.
"This is almost an unprecedented and surreal situation. It's like a World Cup football final match in which one of the finalists gets scrapped a couple of hours before kickoff and the other team is left standing on the field to play by itself. So, the question about my chances in the presidential race is meaningless, given the current condition."
Karoui did not participate in the first-round presidential campaign, missing the other candidates' televised debates. His requests for release have been turned down by the courts.
Karoui said he saw Saied's hour-long interview on state TV September 26 but was not impressed.
"Having watched and listened to the interview given on the national TV channel by the candidate Professor Kais Saied, whom I do not know personally and for whom I have great respect, I became convinced that his proposal is built on a utopian and idealistic vision, very removed from our political and economic reality," Karoui said.
This is all the more true "especially that what he proposes in terms of democratic processes in giving the last word in political and social choices to the people would require the adoption of a new constitution and unusual governing mechanisms," Karoui added.
This, he said, contrasts with "the fact that our country is in a precarious economic and social situation and the people expect to see concrete and tangible remedies that can be implemented on the short term."
"What I've noticed from Professor Saied's interview is that he did not put forth any vision or programme or mechanism for dealing with the economic and social problems that would meet people's expectations," Karoui said.
"All he did was suggest leaving the matter to the people based on the theoretical model of direct local democracy built on elected structures and levels of governance at the levels of neighbourhoods, villages, towns and regions.
"This scheme requires a complete review of the political system in a way that might take a long time."
Karoui said his plans are much more realistic and based on better knowledge of Tunisian realities.
"As to our programme," he said, "it is based on a realistic vision that started with a diagnostic evaluation of the situation on the ground and built on a detailed expertise and knowledge of the major social, economic and security problems of the Tunisian society, problems that require daring and concrete solutions in a very short time.
"We have set up programmes and mechanisms for addressing these problems, solutions that have been elaborated by women and men from the Qalb Tounes party who possess great expertise and intimate knowledge of our economic, social and security reality. We have also validated our programme with expert specialists in all the fields touched upon by our programme."
Karoui is president of Qalb Tounes, which is considered one of the front-runners among political parties and independent slates in the October 6 parliamentary elections.