Jordan and Egypt call for immediate end to Israel's war in Gaza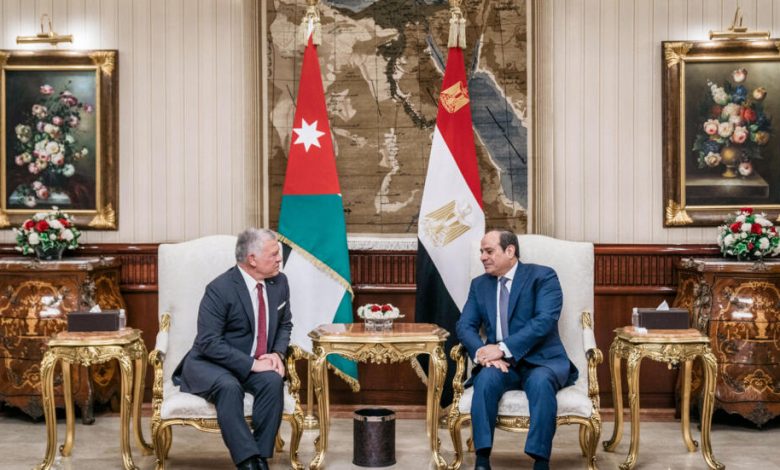 Jordan and Egypt on Thursday called for an immediate end to Israel's war in the Gaza Strip and reiterated their rejection of attempts to forcibly displace Palestinians from the territory.
"Any attempt to forcibly displace (Palestinians) to Jordan or Egypt is rejected," they stressed.
Jordan's King Abdullah II held talks in Cairo with Egyptian President Abdel-Fattah al-Sisi.
The two leaders "underlined their rejection of the policy of collective punishment, siege, starvation and displacement of brothers in Gaza," the Jordanian Royal Court said in a statement.
Abdullah and al-Sisi also called for an immediate end to Israel's attacks on Gaza, protection of civilians, lifting of the siege, and delivery of humanitarian aid to the blockaded enclave, the statement said.
The two leaders warned that prolonging the war risked dragging the region into a "catastrophe."
Jordanian and Egyptian leaders also called for the restoration of the legitimate rights of the Palestinian people, including the establishment of their independent state with East Jerusalem as its capital.
They condemned Tuesday's attack on Al-Ahli Baptist Hospital in Gaza, calling it a "brutal crime against innocent civilians."
At least 471 Palestinians were killed in the strike on the hospital, according to Gaza's Health Ministry. Israel has denied any responsibility for the attack, despite forensic and circumstantial evidence to the contrary.
Gaza is experiencing a dire humanitarian crisis with no electricity, while water, food, fuel, and medical supplies are running out.
UN Secretary-General Antonio Guterres has called for an "immediate humanitarian ceasefire" to ease the "epic human suffering."
At least 3,785 Palestinians have been killed in Israeli attacks on Gaza, while the figure stands at more than 1,400 people in Israel.