Jordan's King Abdullah II warns of the continuation of the cycle of violence in the Palestinian territories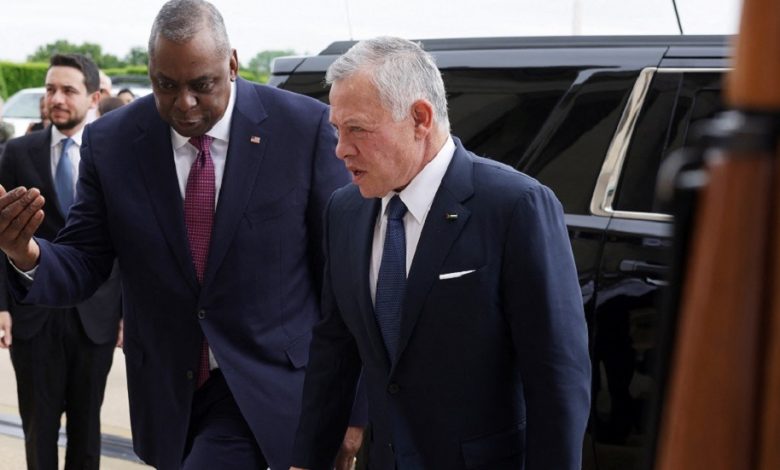 Jordan's King Abdullah II warned against the continuation of the cycle of violence in the Palestinian territories, especially with the repetition of unilateral Israeli steps, considering that its consequences would be dire for security and stability in the region.
King Abdullah II affirmed that the joint interest in enhancing security and stability in the region is one of the most important axes of the strategic and historical partnership between the Kingdom and the United States, explaining that America's support for Jordan in the field of defense enables it to strengthen its efforts to achieve this.
During his meeting at the Pentagon with US Defense Secretary Lloyd Austin, the King of Jorda'n said: "The relations between Jordan and the United States are solid and extend for several decades, and include relations between the armed forces of our two countries," according to a statement published by the Jorda'nian Royal Court.
He expressed the aspiration of countries in the region to cooperate with the United States in order to bring together the various parties in the region and to address multiple challenges, including the escalation of terrorism after it was able to expand within certain incubators during the Corona pandemic period, as well as the challenges arising from developments between Ukraine and Russia and their repercussions on the region.
He explained that his visit to Washington comes to discuss how to cooperate with "our American friends," noting that the region's future and challenges require standing together.
For his part, the US Secretary of Defense said that Jorda'n is a leading country in a difficult region, and an important partner for stability and security in it, stressing that the long partnership and friendship with Jorda'n is of great importance at this time more than ever, given the threats that both countries face.
The US Secretary stressed his country's keenness to consolidate and expand the partnership with Jordan in various fields, saying, "I look forward to our discussions to discuss ways to consolidate this great partnership."
Austin praised Jordan's efforts under the leadership of King Abdullah al-Thani and its commitment to defeating ISIS, and its support for the two-state solution and ending the Palestinian-Israeli conflict, as well as enhancing the security of the Palestinian people, and stabilizing Lebanon and Iraq.
He expressed his country's concern about the recent escalation and violence in East Jerusalem and the West Bank, saying: To the King of Jordan: "We appreciate the role you have played to reduce the escalation and tension."
He expressed his aspiration to continue working with Jordan to reach a path towards security, stability and a just peace for Palestinians and Israelis.