Kais Saied: Those who abuse Tunisia will be held accountable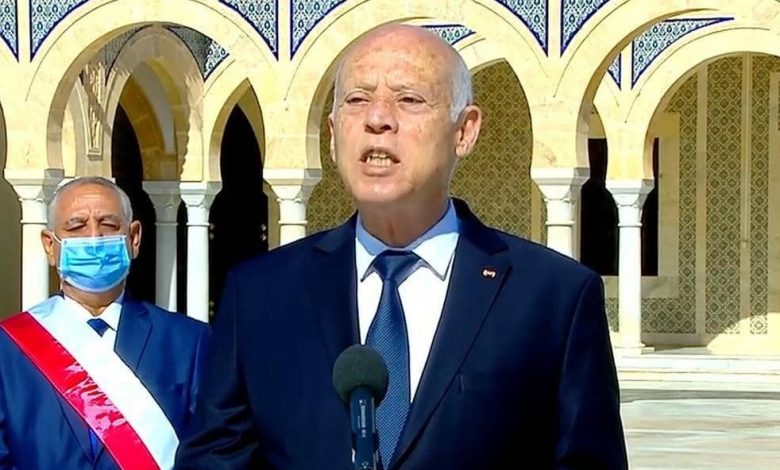 Tunisian President Kais Saied said that "the state is strong with its institutions and is not a spoil as some claim," stressing that "these conditions cannot continue, and that those who insult the state and its symbols cannot remain without punishment within the framework of the law."
This came in a speech by the Tunisian president at the start of a meeting attended by Prime Minister Naglaa Boudin, Ministers of Justice Leila Jaffal, Minister of Interior Tawfiq Charafeddine and Minister of National Defense Imad Mamish, as well as military and security leaders, according to the Tunis Africa News Agency.
In his speech, which was broadcast on state television on Wednesday evening, the president stated that "there is no way for anyone to replace the state and its institutions, and that sovereignty is a red line, and no part of it will be neglected, whatever the horrors."
And that whoever seeks to strike the state from within and civil peace will bear full responsibility.
He added, referring to the Brotherhood and the "Ennahda" movement, saying: "Those who considered respect for the law and procedures a weakness, let them know very well that the state is strong with its institutions and the people are no longer hidden from them."
Saied continued: "Stop insulting the state and its symbols..you do not care about lives," adding: "There is no room for tolerance for those who try to bend the law to enable criminals to escape punishment."
The Tunisian president said: "Our sovereignty is a red line, and we will not give up part of it, whatever the circumstances. Those who try to attack Tunisian sovereignty have no covenant or charter."
Saeed described those involved in his speech as "corrupt and traitors who deliberately strike state institutions every day and create one crisis after another," stressing that insulting the state, its symbols, and institutions amounts to the crime of conspiring against the internal and external security of the state, and that he will not leave the people, the state, and the country "a prey on the tables of ignoble people." ».
The Tunisian president also downplayed the importance of the massive boycott of the legislative elections that Tunisia recently witnessed.
Saied said, "Participation with 9 or 12 percent is better than the 99 percent in which they participated. Telegrams of congratulations were pouring in from abroad, and those capitals knew that those elections were rigged." He added, "We need telegrams of congratulations from the Tunisian people."