Kais Saied: "Tunisia will remain safe, no matter how much these criminals try to destabilise it"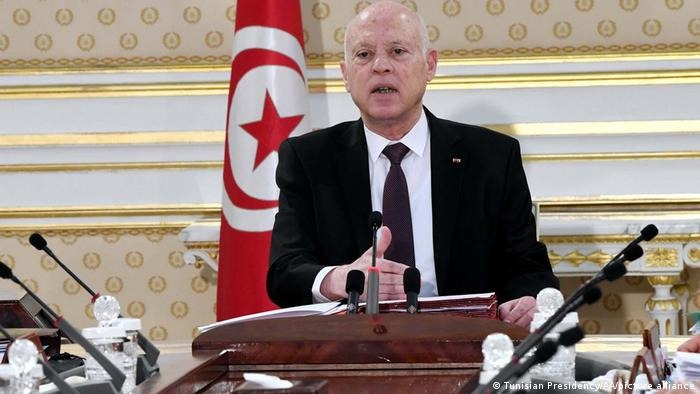 Tunisian President Kais Saied has tried to reassure Tunisians and foreign visitors that the authorities are able to guarantee security in the North African state, after an apparently lone shooter killed three fellow security officers and two visitors during the annual Jewish pilgrimage in the island of Djerba.
"Tunisia will remain safe, no matter how much these criminals try to destabilise it," Saied  stressed on Wednesday as he chaired a meeting of the country's National Security Council in the wake of the a murderous attack that cost the lives of five people beside the shooter.
The Tunisian president said the attack was aimed at undermining the state and its institutions and jeopardising the tourism sector.
"Tunisia will always remain a land of tolerance and coexistence," he asserted.
Tourism minister Moez Belhassine visited Djerba hotels Wednesday to reassure visitors and check on security measures.
Preserving the tourist season and giving assurances about the safety of visitors was also on the mind of  Tunisian Foreign Minister Nabil Ammar as he received, Wednesday, Belgian Foreign Minister Hadja Lahbib and Portuguese counterpart and João Gomes Cravinho.
The success of Djerba's Ghriba pilgrimage, including the safety of visitors, has long been seen as a barometer for the performance of the tourism sector during the coming season.  Tourism operators are worried but nevertheless hopeful Tunisia can weather the current storm of concern.
Tourism revenues are crucial for the debt-strapped country facing a decline in foreign currency reserves and seeking financial help to avert an even more acute crisis in public finances.
Central Bank figures showed tourism revenues to have been improving strongly before the Djerba incident, up 60.3 percent on last year, reaching some $389 million, as of April 20, 2023.
Jack Kennedy, associate director and head of the MENA Country Risk Desk at S&P Global Market Intelligence, told The Media Line "The Tunisian security services are likely to take an attack of this type extremely seriously, so there will probably be renewed security protocols around the site and an uptick in counterterror operations throughout the country."
The incident, he added, "is likely to strengthen Saied's position vis-à-vis maintaining a stronger relationship with the West, particularly the US, in maintaining security cooperation and financial support."
Tunisia was jolted Tuesday night by news of the attack staged by an apparently lone shooter who killed three fellow security officers and two visitors amid the annual Jewish pilgrimage.
The attacker, himself a guardsman, first gunned down a colleague at a station near the Djerba port and seized his automatic rifle and ammunition before heading towards the synagogue, the interior ministry explained in a statement.
The attacker subsequently fired indiscriminately at security units and visitors near the synagogue, killing two Tunisian Jewish visitors  and a second security officer, as well as injuring five others and four more visitors. Security forces then shot him dead, the interior ministry said.
According to local sources who spoke to Tunisian radio stations, Wednesday, the two victims were Djerba natives, one of them a Tunisian-French dual national.
Eyewitness accounts on Wednesday said calm was restored to the island after Tuesday night's shoot-out.
According to organisers, more than 5,000 Jewish faithful, mostly from overseas, participated in this year's pilgrimage to Ghriba, which had resumed in 2022 after two years of pandemic-related suspension.
Labelling the attack
In a statement issued, Wednesday, The US embassy in Tunis commended "the rapid action of Tunisian security forces."
The French embassy said Paris will "stand side by side with Tunisia to continue the fight against anti-Semitism and all forms of fanaticism."
Authorities did not identify a motive for the crime even though Islamic extremists have previously targeted the pilgrimage in Djerba and staged terrorist attacks in the country.
Both embassies as well as Tunisian official institutions have refrained for now from describing the attack as a terrorist incident. Saied described it as a "criminal act."
"Investigations are continuing in order to shed light on the motives for this cowardly aggression," the interior ministry said.
Some in the media have speculated that the shooter could have been seeking revenge  after being recently fired.
Tunisia security experts have nonetheless raised the issue of "extremist infiltrators" of security agencies, including Syria and Iraq returnees who may not have been properly vetted by the authorities before their recruitment in recent years.
Talking to Radio Mosaique-FM, Wednesday, former Tunisian tourism minister René Trabelsi said the incident should be dealt with "in full transparency" and must encourage Tunisians to close ranks. "terrorists always exploit disunity."
Terror attacks have nearly stopped in Tunisia after two major attacks in 2015 and a failed incursion by Islamic State (ISIS) extremists into the border town of Ben Guerdane, south of the country.
ISIS-linked terrorists killed scores of tourists in two separate attacks at a beach resort in Sousse and the Tunis Bardo museum in 2015.
The annual pilgrimage to Africa's oldest synagogue regularly draws hundreds of Jews from Tunisia, Europe and Israel to Djerba, a holiday destination off the coast of southern Tunisia, 500 kilometres from the capital Tunis.
The pilgrimage has had tight security since al-Qaeda militants attacked the synagogue in 2002 with a truck bomb, killing 21 Western tourists, mostly German.