Lebanon: Protesters Ask For Fall Of Regime And Investigation Into Corruption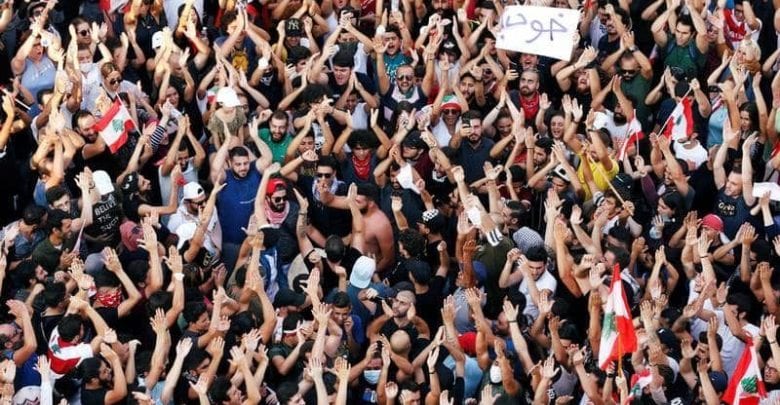 Protesters in Lebanon launched protests Friday over the Government's poor management of a severe economic crisis and corruption of the political class. According to information obtained by Democracy Digest, the people demand the fall of the regime and for strict banking laws to be uplifted so that the corrupt political class will be investigated.
The protests are the biggest in years. other agency reported that thousands gathered outside the government headquarters in central Beirut on Thursday evening, forcing the cabinet to backtrack on plans to raise a new tax on WhatsApp voice calls.
CNN's report on the protests reveals that a third of the population in Lebanon lives under the poverty line. But from a BBC report, despite this, the government had announced a $0.20 (£0.16) daily charge on voice calls made through WhatsApp and other apps. But it scrapped the plans hours later amid clashes between security forces and protesters.
Lebanon's Prime Minister Saad Hariri heads a national unity government that includes members of Hezbollah and its Christian allies, the Free Patriotic Movement. He gave his partners in government a 72-hour ultimatum to come up with "convincing" solutions for a rapidly worsening economic crisis, as nationwide protests against the country's entire ruling political class escalated, reports Washington Post:
The blaze of protests was unleashed a day earlier when the government announced a slate of new proposed taxes, including a $6 monthly fee for using Whatsapp voice calls. The measures set a spark to long-smoldering anger against top leaders from the president and prime minister to the numerous factional figures many blame for decades of corruption and mismanagement.
Hundreds of rowdy protesters were massed outside Prime Minister Saad Hariri's office as he delivered an address to the nation Friday evening, blaming politicians in his national unity government for blocking his reform agenda at every turn. The government is dominated by his rivals, the Iran-backed Hezbollah group, and its allies.
Democracy Digest reports that Jad Chaaban, an associate professor of economics at the American University of Beirut, told US News that government officials had failed to read the mood of the population when they proposed the new tax, likely thinking that it was a small amount and would not have major effects on people. But under the circumstances, Lebanese people perceived the proposal as an insult.
Chaaban said he believes the way out of the economic and political morass would be to have an "emergency plan implemented by an independent government that has a mandate to actually implement these reforms, and when you come to the tough reforms, you submit them to a national referendum."