Lebanon rocked by vast protests demanding resignation of Hariri government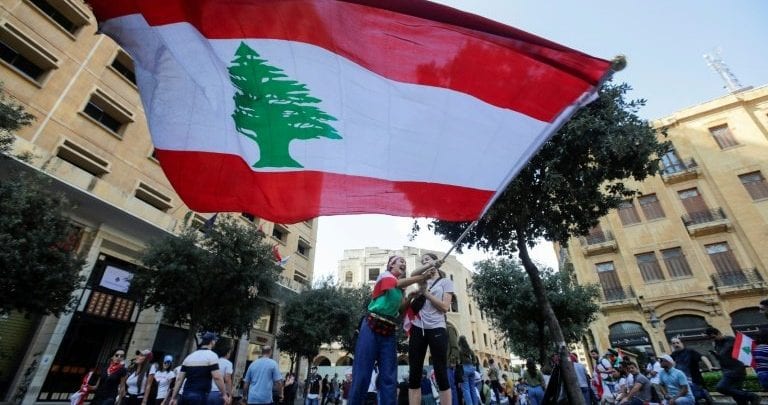 Lebanon was shaken on Sunday by its largest protests in years as young and old turned out en masse to demand the resignation of Prime Minister Saad al-Hariri and his coalition government.
It marked the fourth day of protests following a proposal for new taxes, which ignited widespread anger over austerity measures and corruption in a deeply unequal society. 
The plan – to tax WhatsApp calls and other third-party applications that have long afforded cash-strapped Lebanese a chance to chat for free – was quickly dropped. But the protests have morphed into demands for an overhaul of the entire political system in the crisis-ravaged country.
After on Friday laying out a 72-hour deadline for parties to agree to a framework for economic reforms, Mr Hariri held round-the-clock meetings with Lebanon's various political blocs to discuss proposals for the 2020 budget. 
Late on Sunday Mr Hariri appeared to have bought himself some time with the announcement of a package of reforms including a 50 percent reduction in the salaries of current and former officials. 
The reforms also include $3.3 billion in contributions from banks to reduce the deficit in the heavily indebted country, and plans to overhaul the crippled electricity sector. But they will not be confirmed until approved by the cabinet on Monday, and it is unclear whether they will go far enough.
On Saturday night, the resignation of four ministers from the Christian Lebanese Forces, a party allied with Mr Hariri, underscored the chaos in government. 
By Sunday evening, with just 24 hours to go before Mr Hariri's deadline, the country's streets were awash in flags and furious Lebanese taking aim at all corners.
"Neither Saudi nor Iran will be able to take this protest down," chanted demonstrators in downtown Beirut Sunday night, referencing the regional arch-rivals that have long jostled for control of the tiny Mediterranean country.
In the predominantly Shia city of Tyre, in the country's south, there were chants accusing parliamentary speaker Nabih Berri, himself Shia, of corruption.
There has also been vocal opposition to Hizbollah and its leader Hassan Nasrallah.
"All of them means all of them. Nasrallah is one of them," was heard throughout the protests. 
While demonstrators called for the government's departure, its actual collapse would likely herald even greater instability and economic disaster – something MPs seem anxious to avoid.
Mr Hariri has hinted at resignation if his demands are not met. But there are few obvious alternatives to the current PM.
Not only is the post limited to Sunnis by the country's power-sharing system, but it is also unclear who would be willing to take over in such a disastrous economic situation.
Mr Hariri formed the current government of national unity in February after nine months of wrangling. He is currently in his third term as leader.