Leroy Sane left with bloodied lip after full-time altercation with Sadio Mane
Sane was seen hiding his face and lip after Mane's reported punch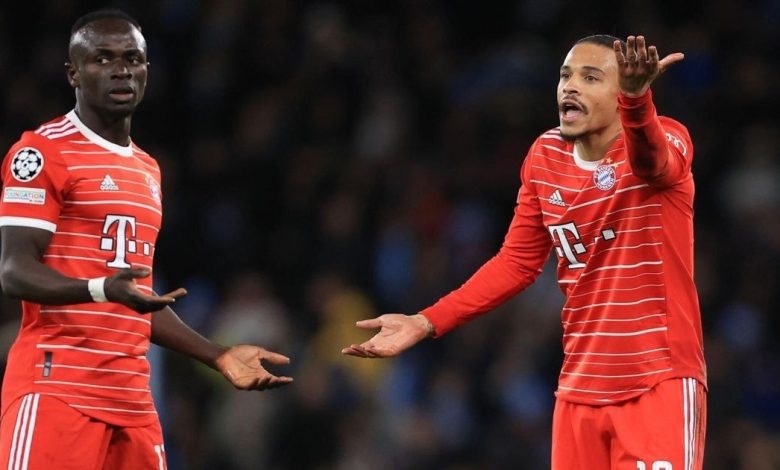 Images have emerged showing Leroy Sane 'hiding' his lip from cameras following reports of a clash with Sadio Mane.
Reports from Germany suggested Mane punched Sane in the dressing room after Bayern Munich's 3-0 defeat against Manchester City. The punch reportedly left Sane with a bleeding lip.
It's claimed that the pair had a heated argument on the pitch in the 83rd minute when Sane tried to find Mane with a pass, only for it to be intercepted by Nathan Ake. Mane has tried to make a run in behind City's defence, while Sane attempted to play the ball to his feet.
As City broke, Sane jumped up in frustration before the pair were seen having an argument.
We later discovered footage of the two Bayern wingers having a disagreement a during last weekend's clash against Freiburg.
Fans are waiting for confirmation of the reports and have been looking for any clue possible.
And it seems there was a clue as Bayern landed back in Germany following their 3-0 Champions League defeat.
In footage obtained by Sky Sport Germany, it's claimed that Sane 'hide' his bottom lip on his return to Munich.
Sane had a baseball cap pulled down and drew his lower lip in to hide any injury he may have sustained from Mane.
It's now expected that Mane will apologise in front of his Bayern teammates as the team return to training.
Cameras lenses will no doubt be zooming into Sane's mouth to see any hint of an injury from the clash with Mane.
Tuchel on Mane's form
Some of Mane's anger may have stemmed to his lack of form at Bayern this season. Injuries have plagued a season in which Mane has scored just six goals in 20 Bundesliga appearances.
And after arriving at the club, Thomas Tuchel had to insist Mane is still a world class player.
"He scored 20, 30 goals every year for Liverpool and was an absolute key player there," Tuchel said. "His quality is beyond any doubt.
"Even at his age, it always takes time to acclimate after a change of clubs. That can take time. There's no doubt about his quality and what it can bring us.
"It's about trust and patience so he can get back into the rhythm. A goal usually helps the confidence."