Libya: Haftar, Menfi, Saleh agree to take part in only Libyan-owned political committees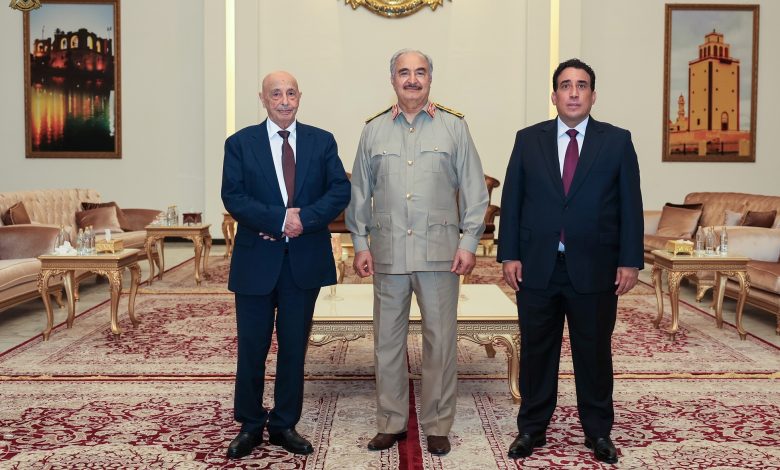 The Head of the Presidential Council, Mohammed Menfi, the Speaker of the House of Representatives, Aqila Saleh, and Khalifa Haftar have confirmed that they won't participate in any committees related to the political situation, except for those adhering to the internal national framework, in reference to their refusal to participate in a dialogue that is likely to be proposed by the United Nations Support Mission in Libya (UNSMIL) under the auspices of the UN. 
This announced came in a joint statement issued by the three men after their meeting in Benghazi on Saturday. The statement said that the meeting took place within the framework of discussions and consultations on developments in the political track.
The meeting appreciated the role of the head of the United Nations mission, Abdoulaye Bathily, "in support of local consensus, leading to the presidential and parliamentary elections, and his call not to take any unilateral steps in the political track."
The meeting saw an emphasis on national ownership of any political action and national dialogue, while noting that the House of Representatives "must take all measures to ensure the adoption of electoral laws referred by the "6+6" committee, after completing its work and meetings in order to put the laws into effect."
The three men also stressed the importance of "inviting the Menfi to a meeting of the Presidency of both the House of Representatives and the High Council of State for consultations to complete the national political track to achieve the greatest number of consensuses with the aim of drafting electoral laws."