Libya in the Last 24 Hours: Army Destroys Turkish Cargo Plane as it Lands in Misrata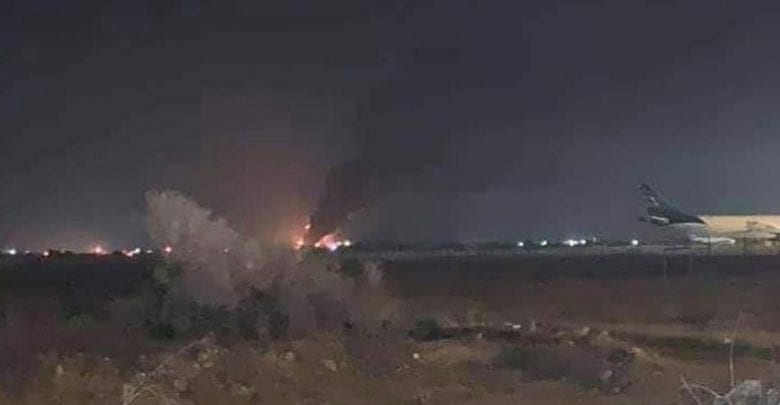 The commander of the Air Force Operations Room currently stationed at Uqba Bin Nafi Air Base (Al-Watiya) Major General Mohammed al-Manfur, confirmed that the air force aircraft targeted a transport plane loaded with ammunition and equipment at Misrata military airport that was subsequently completely destroyed, as were the target of radar stations B12 and B14 air defense.
Libyan army planes carried out more than three air raids on the headquarters of the air college in the city, while reverse sources said that the raid targeted the military runway after the landing of a military cargo plane "El Ocean 76" immediately after landing at the Misrata base coming from Ankara with a shipment of weapons and guided missiles used by the Turkish Air Force operating from the base.
Witnesses from Misrata confirmed that a powerful explosion rocked the city after a heavy flight was heard.
This is the second strike by the Libyan army's air force to the Misrata base in less than a week after a first strike on a missile and radar platform, as well as Turkish drones.
LNA carries out focused, precise air strikes on several locations
The Address | Benghazi – Libya
LIBYA – The Libyan National Army (LNA) carried out precise air strikes Sunday and Monday on several sites targeting elements of the terrorist group called Benghazi Shura Council and the Chadian Opposition in western, central and southern Libya.
The air strikes targeted several vehicles belonging to the Shura Council in the area of al-Sadada west of Sirte completely destroying them, said the media center of al-Karama operations room of LNA in a statement Monday.
The Center pointed out that LNA air force targeted a group of individuals and vehicles near a water tank east of Garyan city south of Tripoli, and targeted a gathering of Benghazi Shura terrorists near Abu Grain town, 180 km south of Misrata.
The Center said LNA air force targeted several locations of the Chadian opposition around the city of Murzuq in southern Libya, pointing out that all strikes were precise and focused.
Libya: LNA Downs Several Drones
Khalid Mahmoud
The situation in Libya's capital, Tripoli, was relatively calm due to heavy losses of armed militias loyal to Government of National Accord (GNA), according to Commander of Libya National Army's (LNA) Ain Zara axis, Major General Fawzi al-Mansouri.
Mansouri told Asharq Al-Awsat that the battle to liberate Tripoli had entered its final phase, pointing that 32 militants were killed and dozens of others injured.
Information Officer of the 73rd Infantry Brigade al-Mundhir al-Kartoush announced that of the killed militants, 13 were from Misrata. He indicated that the militias targeted civilian areas behind LNA forces, which in turn destroyed a large force in al-Saddadah before moving towards al-Shwayrf.
Libyan National Army (LNA) announced it had destroyed several drones, one of which was a Wing Loong model and was heading towards Misrata, announced Spokesman for the Volcano of Rage Operation (VRO), Mustafa al-Majai.
The air defenses managed to down the drone inside Abugrein, 12 KM west of Misrata, Majai told Agence France-Presse (AFP), adding that it was carrying five guided missiles and was ready to carry out strikes inside the city.
VRO published pictures showing a destroyed medium-sized drone, along with several missiles carrying a red flag.
Last week, Volcano of Rage announced it destroyed several drones claiming they belonged to the LNA, however, Army sources denied the allegations indicating the drone dropped in al-Jufra belonged to Tripoli militias.
In other news, Deutsche Presse-Agentur (DPA) reported that LNA commander Khalifa Haftar arrived in Cairo heading a delegation on a visit to discuss the latest developments in Libya.
Meanwhile, Tripoli residents reported random shelling in the vicinity of Mitiga International Airport, while airport authorities announced in a brief statement it suspended air traffic.
The United Nations Support Mission in Libya (UNSMIL), announced that as part of his ongoing efforts to build a unified international position on Libya, SRSG Ghassan Salame met separately with Kuwait's Ambassador to Libya Mubarak al-Adwani, US Embassy Chargé d'Affaires Joshua Harris and Malta Ambassador Saliba Charles, who invited him to Malta this month.
Sarraj's Government Bans UN Envoy from Using Zuwarah Airport
Khalid Mahmoud
For the first time since assuming his position as the sixth UN Envoy to Libya, Ghassan Salame was banned by Fayez al-Sarraj's Government of National Accord (GNA) from using Zuwarah International Airport in the country's west.
No official comment was made by the UN envoy regarding the ban, yet pro-government media revealed that the envoy informed the airport's administration that the mission's employees would stop using it.
In televised statements, Undersecretary of the Ministry of Transport Hisham Bushkiwat said Saturday that no landing permit would be given to Salame's airplane at the facility, saying his plane should land at Mitiga International Airport, the only airport operating in Tripoli.
Earlier, Bushkiwat called on Salame to visit Mitiga airport along with his deputy to confirm that it is being used for civil purposes only, unlike his briefings to the Security Council.
Meanwhile, pro-Sarraj militias demanded Salame to apologize for his controversial reading to the Council on Monday regarding the political and military situation in Libya.
The Counter-Terrorism Force expressed its firm rejection to the envoy's statements with respect to extremists fighting in the ranks of Sarraj's forces in Tripoli, demanding an apology.
Days earlier, Sarraj announced that he summoned Salame and handed him a memorandum to object fallacies in his reading on the situation in Libya.
In his reading, Salame called on the authorities in Tripoli to stop using the airport for military purposes, and the attacking forces to stop targeting it – hinting to the forces loyal to Libyan National Army (LNA) leader Khalifa Haftar.
He also spoke about uncertain claims of violations against human rights in Garyan, after Haftar's forces laid hands on it.airport.