Libya is a new regional flashpoint as Erdogan moves in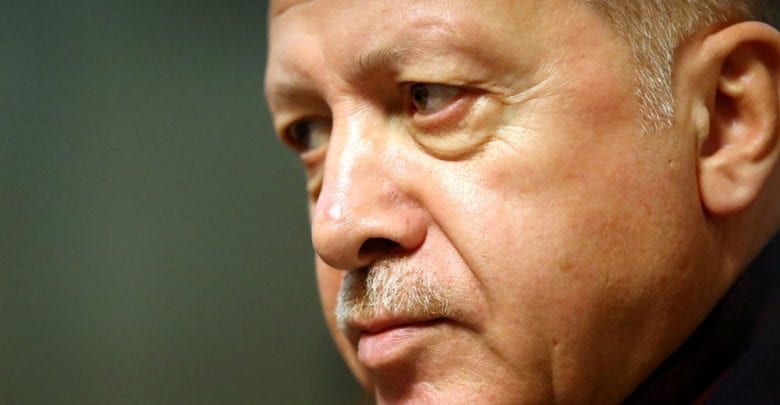 As if the eight-year-old Libyan crisis was not complicated enough, Turkish President Recep Tayyip Erdogan now wants to add fuel to the fire by deploying troops and sending arms to aid the beleaguered Government of National Accord (GNA) in Tripoli.
 
Erdogan has asked his parliament to give approval to a Libyan request to provide arms and fighters under a controversial agreement reached by the GNA, headed by Fayez Al-Sarraj, and Erdogan last November. The agreement, which was rejected by Greece, Cyprus, Egypt and Israel, includes a maritime treaty that gives virtually unlimited naval access to Ankara in the Eastern Mediterranean.
The UN-recognized GNA has been losing territory since Gen. Khalifa Haftar, who heads the so-called Libyan National Army and is backed by parliament and the rival government in Tubrok, launched a military campaign in April to capture the capital Tripoli and unseat Sarraj. Haftar has already successfully defeated extremist militias in the east, liberated the city of Benghazi and taken control of the oil rich region around it, as well as most of southern Libya.
He and Sarraj failed to implement a political agreement, reached in Skhirat, Morocco, in December 2015. Haftar accused Tripoli of bowing to the control of militias affiliated with the Muslim Brotherhood, and of being backed by Qatar and Turkey. Haftar himself is supported by regional countries. The UN has imposed a weapons embargo on Libya, but that did not prevent both sides from receiving military aid from backers.
Turkey's intervention will almost certainly widen the conflict and bring about a proxy war that would involve other regional powers. Erdogan has claimed Haftar is using Russian mercenaries, while he himself is being accused of recruiting Syrian insurgents to fight in Libya. While Russia has denied sending mercenaries to Libya, recent reports suggested that a Russian military group, associated with President Vladimir Putin, is working with pro-Haftar forces.
On Sunday the so-called National Syrian Army, composed of anti-regime militias backed by Ankara, issued a statement announcing the resignation of top military brass in protest of sending what it called "fighting groups" to Libya without prior consent. Erdogan, it seems, won't immediately risk his own troops in Libya, relying instead on mercenaries. He is expected to send military advisers, drones, air defense and anti-tank systems to help the besieged GNA.
Turkey's intervention will almost certainly widen the conflict and bring about a proxy war that would involve other regional powers.

Osama Al-Sharif
Haftar's forces have been making headway, and have reached the outskirts of the capital. Turkey's intervention, especially in delivering weapons to pro-GNA militias in Misrata, is expected to push back these forces and create an impasse. Erdogan hopes to achieve a number of geopolitical goals as he lays claim to large swaths of the gas-rich Eastern Mediterranean.
But by intervening in Libya, he also risks facing domestic dissent as well as regional and international opposition. Already he has been warned by the Italian, French and German governments, who have various interests in finding a political solution in Libya. But Erdogan is an opportunist. He has seen for himself how the UN has failed to implement the Skhirat agreement while looking the other way as Haftar's forces took over most of the country. By throwing his hat into the ring, he hopes to capitalize on Turkey's growing influence in a divided and polarized region.
It is ironic that he now finds himself on the opposite side of his ally in Syria: Putin. Russia's support of Haftar is in line with its backing of Bashar Assad against his Islamist foes. Egypt, which has a long border with Libya, sees Haftar as a protector of its western flank against Al-Qaeda, Daesh and other extremist groups.
President Abdel Fattah El-Sisi will not be happy to see Turkey, which supports Egypt's Muslim Brotherhood, establishing a foothold in neighboring Libya. What Cairo can do to offset this new challenge remains to be seen. Erdogan's intervention also creates a problem for the US, which is worried by Russia's rising influence in a region that has been historically under Washington's sway.
There is no doubt that Turkey's meddling in Syrian affairs has compounded that country's plight. Having backed Syrian rebel groups, Erdogan is now seen as abandoning them in Idlib. Whatever deal he has reached with the Russians over Idlib has so far created a new humanitarian catastrophe for hundreds of thousands barred from escaping to Turkey. His planned involvement in Libya will bring similar results. As we enter 2020, Libya will emerge as a critical regional flashpoint that threatens to unsettle North Africa while polarizing the region even further.