Libyan Dialogue criticize the role of the UN mission in the country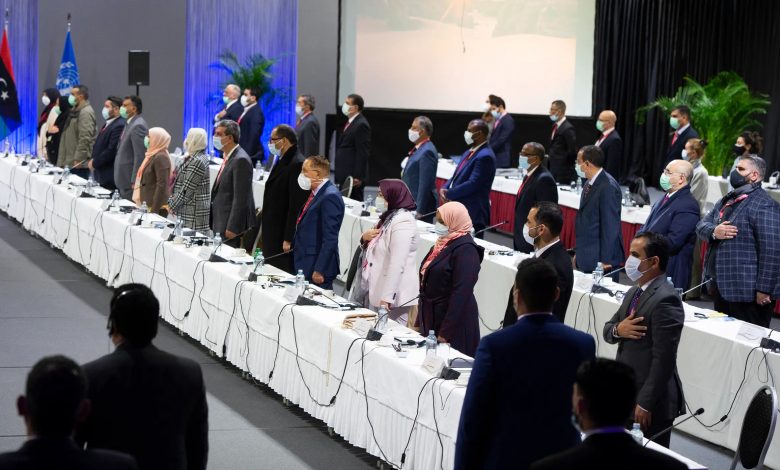 Participants in the Libyan Dialogue Forum said the standoff prompted the forum's managers to suspend a Friday afternoon session.
Twenty-four members of the Libyan Dialogue Forum, which concluded its work Friday in Geneva, criticized the role of the UN mission, its management of the sessions and its leniency towards obstructionists.
The Dialogue Forum Consensus Committee made three proposals which it presented to the Forum members to vote on one of them in two rounds at a percentage of 75%.
According to the committee's report, the first proposal includes holding simultaneous parliamentary and presidential elections on December 24 without restrictions on the right to run in accordance with a temporary constitutional rule.
The second proposal has been summarized in parliamentary elections only, followed by completing the constitutional process and organizing presidential elections based on a permanent constitution.
The third proposal also stipulates that the elections will take place on time according to the amended constitution.
The Libyan Dialogue Forum witnessed a debate on the constitutional basis on which the elections scheduled for the end of this year will be held, in particular the issue of the election of the president and the shape of the legislative body.
The disagreements at the Geneva meeting on the question of the election of the president by parliament or by secret ballot by the people came at a time when the debate was moved to the legislative body, and whether it will be a unicameral or bicameral parliament. to be?
The other controversial issues regarding the conditions for the election of the president were renewed after the introduction of the list mechanism through the election of a president, his deputy and a prime minister, distributed among the three regions, or through individual candidacy.
The UN mission continued the pressure method by focusing on the limited timeframe to resolve the issue of consensus on a constitutional basis, as proposed by the Advisory Committee.
Saleh also clarified that the Constitutional Declaration is the Constitution of Libya until repealed or amended, and provides that the President is directly elected by the Libyan people,
For his part, Parliament Speaker Aguila Saleh stressed that the solution in his country is to hold presidential and parliamentary elections and elect the president directly from among the Libyan people.
On the security front, Saleh stressed that foreign troops and mercenaries must leave Libya "by whatever means".