Libyan Parliament Speaker Arrives in Algeria, Mediation Looming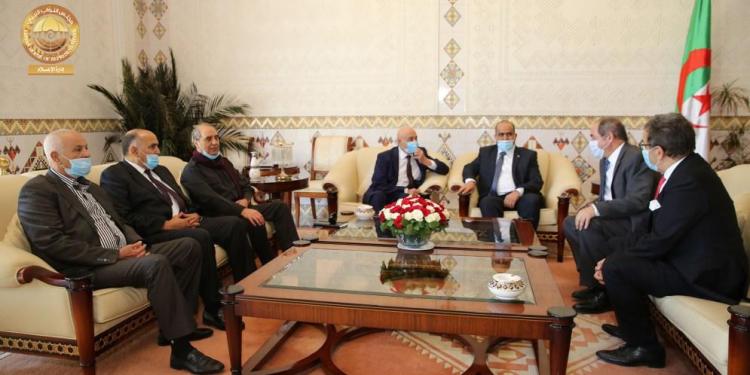 The Libyan Parliament Speaker, Aguila Saleh, arrived on Saturday, in the Algerian capital, for a visit to discuss the crisis that has been going on in the country for years, amid increasing calls for dialogue and a settlement.
Saleh was received by the President of the Algerian Parliament, Slimane Chenine, and the Algerian Minister of Foreign Affairs, Sabri Boukadoum, according to the Sky News Arabia correspondent.
Saleh's visit comes as Algerian President Abdelmadjid Tebboune said that his country's position is neutral from all the conflicting parties in Libya. 
"We have no expansionist or economic ambitions in Libya, all we want is to stop the fighting there," said Tebboune.
The Algerian president added that "We would prefer to use what can be lost in wars in our local development instead of military losses that may be caused by military participation outside the borders far from what the Constitution stipulates."
Tebboune indicated that Algeria is the only country that can bring together the Libyan parties, and that both the Commander of the Libyan National Army, Field Marshal Khalifa Hafter, and the head of the Government of National Accord (GNA), Fayez al-Sarraj, have expressed their willingness to accept Algerian mediation.
"We can cooperate with neighboring countries, whether Egypt or Tunisia, in order to find a solution to the Libyan crisis," the Algerian president revealed.
Moreover, he noted that "Our decisions were announced by us in the Berlin conference, and several countries violated the decisions taken by introducing weapons to Libya and contributing to driving wedges between the Libyans."
Egyptian Initiative on Libyan Crisis 
Last week, the Egyptian President Abdel Fattah El Sisi announced the Egyptian initiative to solve the Libyan crisis, telling a news conference that the initiative includes a cease-fire and is meant to pave the way for elections in oil-rich Libya. He warned that military solution will not solve the country's crisis.
In previous statements to SEE, Saleh said that "It's simple. Let's hold free elections in the three provinces of Libya. Historically Libya is considered three provinces, Tripolitania in the northwest, Cyrenaica in the east, and Fezzan in the southwest."