Linking Violence to Religions Rejected "Sisi to Le Drian"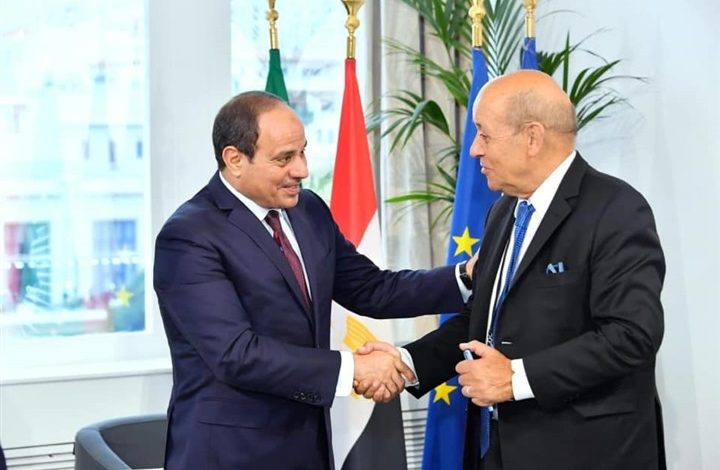 El Sisi received today, Sunday, Jean-Yves Le Drian, Minister of Foreign Affairs of the French Republic, in the presence of Sameh Shoukry, Minister of Foreign Affairs, as well as the French ambassador in Cairo.
"The meeting tackled various issues including joint cooperation within the framework of the strategic bilateral relations between the two friendly countries, as well as reviewing ways to enhance efforts to confront the escalation of extremism and hatred in light of the recent tension between the Islamic world and Europe," said Presidential Spokesperson Bassam Rady.
Rady added that Le Drian affirmed France's respect and appreciation for all religions, their principles and values, and its aspiration to strengthen cooperation and consultation with Egypt to combat the phenomenon of intolerance and extremist ideology that is spreading.
"In this regard, Le Drian praised Egypt's efforts, under the leadership of President Sisi, to achieve understanding and dialogue between people of all religions," he noted.
The spokesman pointed out that the meeting also witnessed discussions about the latest developments of the Libyan issue, as the Egyptian President reviewed his country's firm strategic position towards Libya, especially with regard to support for the current discussions in all tracks based on the conclusions of the Berlin Conference and the Cairo Declaration.
On his part, Sisi stressed the urgent need to unite all efforts to uphold the values ​​of coexistence and tolerance among all religions, to extend bridges of understanding and brotherhood, and not to insult religious symbols, expressing his complete rejection of terrorist acts in all their forms, or linking any religion to acts of violence and extremism.
Moreover, the French foreign minister lauded the important Egyptian role in resolving the Libyan crisis, and the personal efforts of President Sisi in this regard.
The meeting also witnessed an exchange of views and perspectives on the developments of some regional files of common interest, most notably the Eastern Mediterranean and Syria, where consensus was reached in this regard on intensifying coordination and consultation between the two sides.