Liverpool's Mohamed Salah earning at least £1m a week, adviser indicates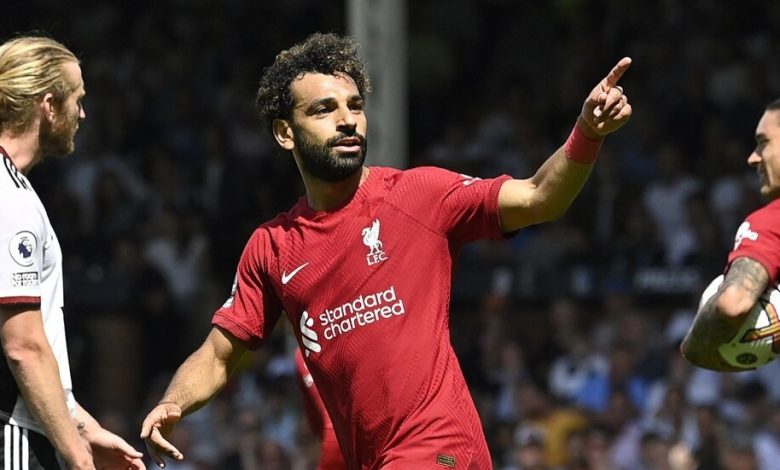 Mohamed Salah's contract at Liverpool is the catalyst for him to earn at least £1m a week in total income, his lawyer and adviser has indicated. Ramy Abbas Issa told a Harvard Business School (HBS) study, seen by the Guardian, that would be a "conservative" expectation of what the forward makes.
Abbas and Salah also detail how close the highest-paid player in the club's history came to leaving before a new deal, which runs to 2025, was confirmed on 1 July 2022.
Negotiations had started in 2020 and whether Salah would extend was in doubt as late as June 2022 when, he says in the study, discussions with Liverpool had "broken down entirely".
Abbas said: "When you have put your requests on the table and you don't get anything you've asked for, you have to start thinking about parting ways."
Abbas and Salah agreed for the purposes of the study to be quoted as if their words were spoken at the time of the contract talks. Salah is quoted as saying: "I have been positive about the negotiations from the beginning but now that Ramy told me they have not agreed to anything we wanted, I see things differently. I feel like the club wants me to stay, and I want to stay, but it's hard to get a deal done."
It is notable that HBS has chosen to feature Salah's contract renegotiation on its business of entertainment, media and sport programme, run by professor Anita Elberse. She prepared the deep dive into the mechanics of the Salah deal with one of her students, Taher El Moataz Bellah; Abbas and Salah granted interviews.
Abbas will talk on Monday at the semester-long version of the course for MBA students. A four-day executive edition has attracted numerous high-profile football figures. Previous attendees have included Gerard Piqué, Kaká, Edwin van der Sar and Clarence Seedorf.
Elberse's case studies present a story and invite discussion within the class. They are open-ended, typically finishing on a cliff-hanger, which in this instance was a phone call in June 2022 between Abbas and Salah before the former made the final, make-or-break counter-offer to Liverpool. Abbas was in Dubai; Salah on holiday in El Gouna, a resort town on Egypt's Red Sea.
The study includes Abbas's take on the negotiations shortly before he made that counter-offer. "We are still very far apart. Mohamed isn't going to throw away his contract because of a 5% difference in what we are asking for and what they are willing to give – it is much more than that."
Abbas goes on to deliver the killer line that throws unseen light on the scale of the lone figurehead enterprise that is Salah.
"If we find a way to get Liverpool to agree to the salary we have in mind and if Mohamed performs at a level he has achieved in the past seasons …" Abbas says, "we conservatively expect the total amount received by Mohamed and the image rights companies over the next few years from both his playing contract and his image rights contracts to be somewhere between €54m [£46.8m] and €62m [£53.7m] per year."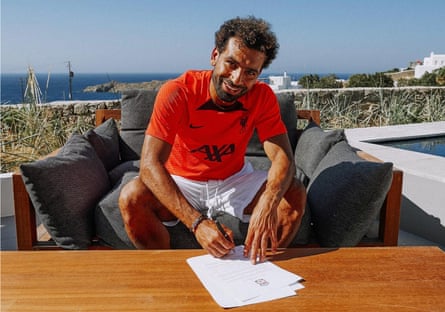 The study ends with a quote from Salah. "Renewing at Liverpool would be one of the biggest milestones of my career," he says. "But we have to do this the right way. I've learned throughout my career that if you want to be successful, it is important to invest in yourself not just physically but also mentally. That is true on the field, but also off the field. You have to control your emotions and be ready for the pressure."
No details are given about how the decisive meeting went but it is a matter of record that Salah's deal was announced in pretty short order. In other words, it went well and the reader is invited to conclude that Liverpool agreed to Abbas's demands.
How much Liverpool are paying Salah is unclear from the study. Club sources believe he earns more from third parties, such as his commercial tie-ups with Adidas, the Bank of Alexandria in Egypt, PepsiCo, Gucci and the real estate brand Mountain View.
"Now, Mohamed's endorsements are [each] in the €4m [£3.5m] to €7m [£6.1m] range – him joining Liverpool was a game-changer," Abbas says, making it explicit how Salah's successful association with the club has not only led to a hugely lucrative playing contract but helped to drive other revenue streams. It is no great stretch to see how Salah helping Liverpool to do well and become more visible could trigger bonuses in his deals away from the club.