Lockerbie Bombing Suspect In US Custody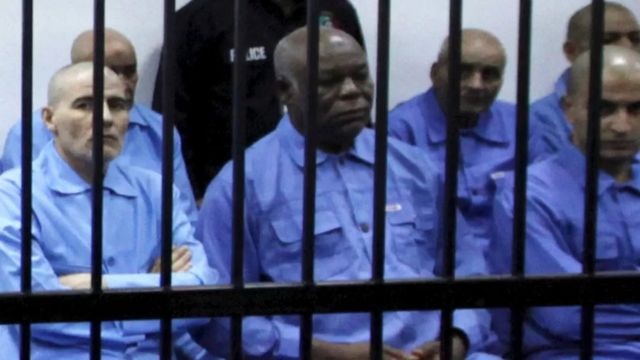 A Libyan intelligence official suspected in the United Kingdom's deadliest terror attack — a plane bombing more than three decades ago — was in US custody on Sunday.
Abu Agila Mohammad Masud Kheir Al-Marimi was arrested for allegedly helping make the bomb that blew up Pan Am Flight 103 over Lockerbie, Scotland, in 1988, leaving 270 people dead, officials said.
The plane was en route from London to New York when it exploded, killing all those on board and 11 others on the ground in the small town near the border with England.
Victims of the attack included 190 Americans — dozens of whom were Syracuse University students flying home for Christmas after spending a semester studying abroad — as well as citizens from 20 other countries.
In a statement Sunday, Syracuse University Chancellor Kent Syverud said the development was a notable step in the process "to bring those responsible for this despicable act to justice."
The alleged terrorist was set to appear in Washington, DC, federal court on Monday.
Masud was taken into custody two years after US authorities charged him in connection with the massacre. He was being held by Libyan authorities at the time.
He is the third Libyan intelligence official charged in the attack but would be the first to stand trial on US soil.
Masud, an alleged top bomb-maker for then-Libyan dictator Moammar Khadafy, faced two criminal counts — including destruction of an aircraft resulting in death. He's expected to soon appear in a Washington, DC federal court, prosecutors said.
"At long last, this man responsible for killing Americans and many others will be subject to justice for his crimes," William Barr, then-US Attorney General, said at a news conference announcing the charges in December 2020.
It was unclear how the US negotiated his extradition.
Masud had been kidnapped from his Tripoli residence by armed men last month, and his family accused the government of not responding to the apparent abduction, according to reports by Lybian news outlets.
When asked about extraditing Masud, the country's foreign minister told the BBC last year Libya was "very open in terms of collaboration on this matter."
Libya has been embroiled in civil war for more than a decade, and militia groups have gained wealth and power by kidnapping and human trafficking.
Al-Megrahi and Fhimah were tried by a panel of Scottish judges sitting in the Netherlands. Al-Megrahi, a former Libyan intelligence officer, was convicted in 2001. He is the only person ever convicted in the terror attack and died in 2012 while trying to appeal his conviction. Fhimah was acquitted of all charges.
The US got a breakthrough in the Lockerbie crash case in 2017 when it received a copy of a interview in which Masud admitted building the bomb with two other cohorts; Abdel Baset Ali al-Megrahi and Lamen Khalifa Fhimah. The suspect purportedly gave the confession to law enforcement after Khadafy's government dissolved in 2012.
Scottish officials said Sunday the families of the victims had been notified of the arrest.
"Scottish prosecutors and police, working with UK Government and US colleagues, will continue to pursue this investigation, with the sole aim of bringing those who acted along with Al Megrahi to justice," a spokesman for the UK Crown Office and Prosecutor Fiscal Service said.