Macron Outlines Vision For 'European Sovereignty'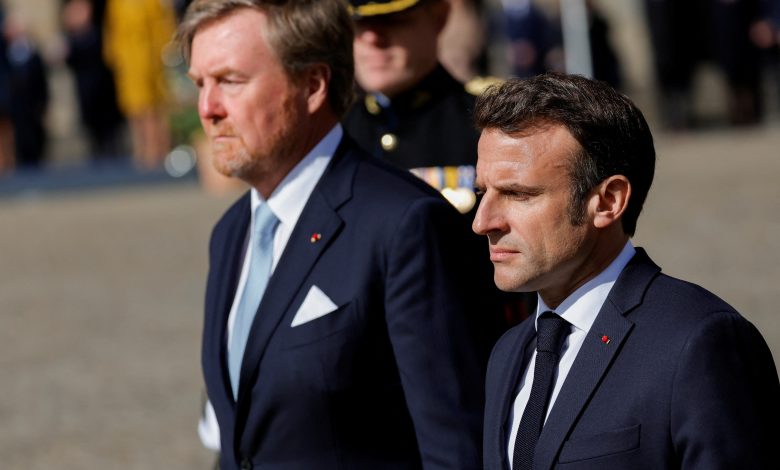 Speaking at the Hague on Tuesday, French President Emmanuel Macron spoke of his vision for a new era of "European sovereignty" in which the Continent can choose its own partners and "shape its own destiny". His address was briefly disrupted by protesters who attempted to shout him down.
Macron's speech, made during the first state visit to the Netherlands by a French president in 23 years, was closely watched by analysts and allies alike as it centered on European sovereignty. It came just days after the French leader sparked concerns among allies after he said in an interview that Europe must not be a "follower" of either Washington or Beijing on Taiwan.
"European sovereignty" might have once sounded like just a "French idea", Macron said, or even "wishful thinking", but pointed to the danger of a Europe that is too dependent on other world powers, saying it places Europe in the position of not being able to decide for itself.
European sovereignty should mean that the Continent can "choose our partners and shape our own destiny" rather than being "a mere witness [to] the dramatic evolution of this world", he said.
"This means that we must strive to be rule-makers rather than rule-takers."
But Macron also said Europe would maintain robust relationships with its allies.
"[T]his we can do in a cooperative manner in keeping with our spirit of openness and partnership."
Macron said the pandemic was a "wake-up call" as Europe discovered how dependent it was on other nations.  
Protesters disrupt speech
Just as Macron began his address, protesters disrupted the speech.
"Where is French democracy? When did we lose it?" they shouted from the theatre, in a likely reference to the French president's controversial pension reform at home.
Two female protesters held up a yellow banner saying "President of violence and hypocrisy" while one male protester on the other side of the theatre held a blue banner aloft.
"I can answer this question if you give me some time," Macron responded.
He went on to say that it was "very important to have social debate" and that "I can answer all the questions you have on what we are discussing in France".
Security guards escorted the demonstrators out of the hall after about one minute, and Macron noted that: 'A democracy is exactly a place where you can demonstrate."
People who do "whatever (they) want" against laws they disagree with "put democracy at risk", he said.
The 45-year-old French leader has faced a series of protests and strikes in France against the reform, with a new day of industrial action scheduled for Thursday.
Macron is facing the biggest challenge of his second term over his flagship pension overhaul, which includes raising the retirement age from 62 to 64 and demanding people work longer for a full payout.