Macron Vows Govt Action Plan in Next 100 Days to Appease Anger Over Pension Reform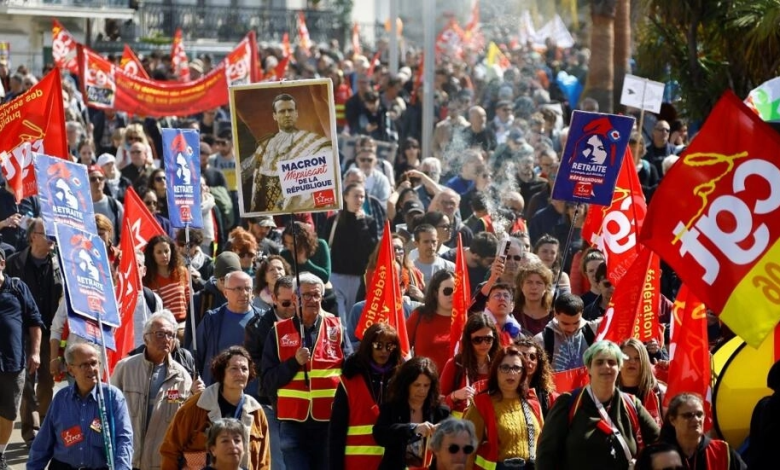 The French government will work out a coherent plan to get France back on its feet in the next 100 days and heal the country after weeks of protests against an unpopular pension reform bill, President Emmanuel Macron said in a televised speech on Monday. 
Macron said "these changes were needed to guarantee everyone's pension", after he enacted the pension law on Saturday, just hours after the reform to raise the retirement age from 62 to 64 had been validated by the constitutional court, prompting accusations he was smuggling the law through in the dead of night.
He also pledged to open new talks with unions about better working conditions. Unions have protested for months against the planned increase of the retirement age by two years to 64 and have said they will not restart talks with the government about other topics without a reversal of the pension reform.
"Gradually working more is also producing more wealth for our whole country," he added.
Macron acknowledged anger over increasing prices and jobs that don't "allow too many French people to live well".
The evening address kicks off a likely arduous battle for the French president, who is trying to repair the damage done to his public image and politics by forcing the pension plan through parliament last month.
After three months of protests and strikes, the left and unions have vowed not to give in and have warned of mass protests on the May 1 Labour Day.
Polls have consistently showed a majority of the French remain opposed to the reform, which the government rammed through parliament using a controversial mechanism allowing it to be passed without a vote.
Meanwhile, Macron's own personal popularity ratings have eroded, with some analysts suggesting he has given a head-start to far-right leader Marine Le Pen in the long path to 2027 elections.
The press has widely dubbed it a "Pyrrhic victory" after the Greek king who defeated the Romans but saw most of his army destroyed in the process.
'President of chaos'
The leader of the powerful CGT union Sophie Binet said in an interview with regional newspapers Sunday that Macron was "on his way to becoming the president of chaos".
"He is opening the way to the National Rally" party of Le Pen, who was shown in one poll as the victor if the 2022 presidential election was re-run at the present time, she said.
"Emmanuel Macron is far from finished from having to deal with the social and political crisis, which he continues to dangerously stir up," said Le Monde daily in an editorial.
It noted that Le Pen was the only French politician whose popularity has been notably boosted by the crisis, while trust in the country's democratic institutions has fallen.
"The cost of the pensions reform appears to be exorbitant," it said.
The crisis also comes at a time of increasing challenges on the international stage for Macron, who faced accusations of cosying up to China on a visit to Beijing last week.
'Determined to accelerate'
Macron, 45, came to power in 2017 promising reform in France and a fresh new politics. But opponents accuse him of increasingly reclusive and anti-democratic behaviour.
"Emmanuel Macron no longer has authority … so suddenly he is becoming brutal and authoritarian," hard-left deputy Clementine Autain told French TV on Sunday.
Le Pen said Macron had three choices to end a crisis "which he created himself" – a referendum on the changes, legislative elections or resignation.
But Prime Minister Élisabeth Borne vowed Saturday the government would press ahead with more reforms now the pensions overhaul was passed.
"We are determined to accelerate" the pace of reforms, she told the national council of Macron's Renaissance party.
Binet and other union bosses have called for a "popular and historic tidal wave" of people on the streets to oppose the reforms on May 1.
As a prelude to the May 1 protests, railway unions are calling for a day of "railway anger" on April 20.