Manchester United vs Liverpool postponed – pitch invasion, fan protests and official statements
Manchester United fan protest updates as pitch invasion takes place and kick off against Liverpool delayed in Premier League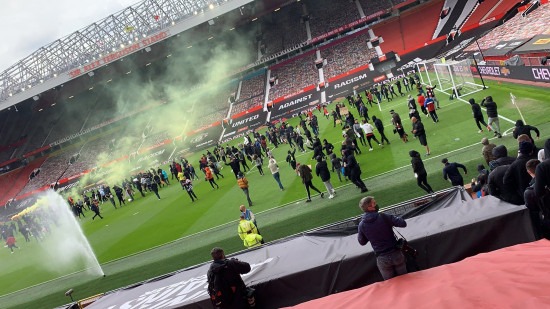 Liverpool's Premier League clash with Manchester United has been postponed after thousands of United fans descended on Old Trafford to protest against the club's owners.
The protest officially got underway at 2pm and it didn't take long for events to take a dramatic twist as hundreds of fans broke into the stadium and stormed the pitch.
The line-ups were announced at 3.30pm – an hour before the planned 4.30pm kick-off – but the game was delayed by the Premier League just before 4pm.
Then just after 5.30pm an official United statement confirmed the game was postponed and would be rescheduled for a later date.
Follow our live updates with Ian Doyle in Manchester, plus Paul Gorst and the rest of the team as we learn more.