Mbappe's relationship with the French president may prevent him from moving to Real Madrid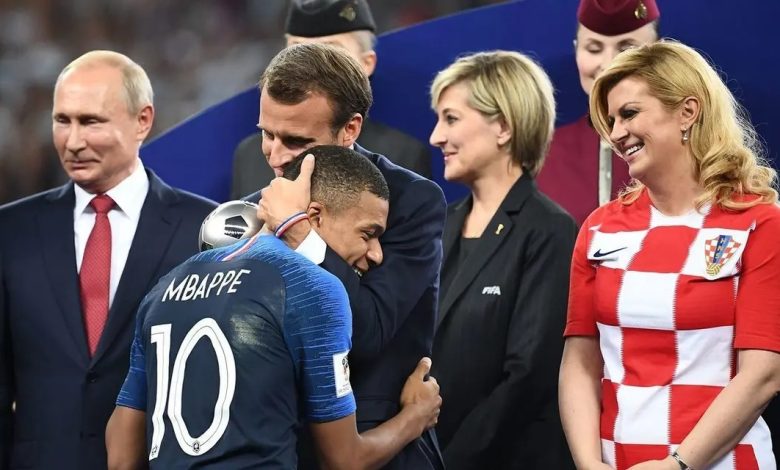 French press reports revealed that the country's President Emmanuel Macron, despite his preoccupation with the presidential elections, is communicating with Paris Saint-Germain star Kylian Mbappe in order to persuade him to renew his team and to abandon the idea of ​​moving to Real Madrid.
The player's contract expires at the end of the current season, and his matter has not yet been decided, but all recent reports confirm that the issue of him wearing the Real Madrid logo is just a matter of time.
A report published by the "RTL" network stated: Despite the multiplication of Paris Saint-Germain's temptations for Mbappe, which are related to money, obtaining a huge salary and building a sports project around him, one person may tip the scales in favor of the French capital team, although he is a fan of Marseille, and he is president of Country Emmanuel Macron.
He continued: Macron talks with Mbappe constantly without any mediator, the first meeting between them took place at the beginning of 2018 at the Elysee Palace, during the discussion about development in Africa through sports, Kilian was not then the world champion yet, but Macron admired the eloquence of the young boy.
And the report added: The relationship between them is not limited to football only, Mbappe helped Macron to raise awareness of the importance of the Corona virus vaccine by publishing pictures of him receiving the dose on social media, and the president believes, especially with the approach of the Paris Olympics, the need for Mbappe to remain in France because he has become a sports icon for youth and its impact They have a big one, and he held many talks with him to convince him to continue in the local league.
And he added: Payet and Matuidi were among the 50 players who published a message to the French people in Le Parisien, asking the people to choose Macron over his rival Marine Le Pen, and it is expected that Kilian is also expected to announce his support for the current president, but in a less direct way.
Mbappe said in previous statements after his team's match against Lorient: I have not made my decision yet, I am thinking about it, there are new elements and many factors. I don't want to be wrong.
He added: I realize that making a decision may be delayed for some, but we talk about this issue on a daily basis.
Since the beginning of January, Mbappe, who has entered the final six months of his contract, has been free to reach an agreement with another club on a contract starting in July.