Media campaign in solidarity with Mu'ath Amarnah who lost his left eye after an Israeli sniper shot him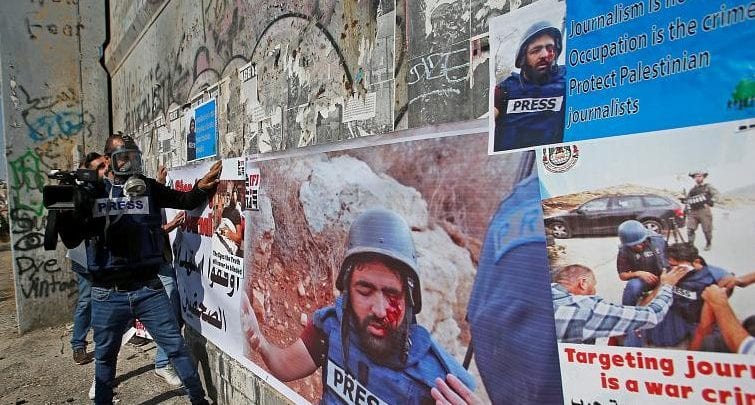 Palestinian social media platforms lunched Sunday a wide popular and media campaign in solidarity with Palestinian cameraman Mu'ath Amarnah , who lost his left eye after an Israeli sniper shot him while he was covering the clashes that  erupted on Friday in the town of Surif, north of Hebron, in the southern West Bank.
The activists published a hashtag calling Mu'ath_eye and other tags in Arabic and English attaching pictures for them while covering their left eyes. They wrote under the hashtag that the Photojournalist Mu'ath Amarneh recorded many of Israeli violations by his camera, but after November 15th he will no more could recorded Israeli violations.
Amarneh completely lost sight in the left eye after being seriously wounded by a rubber-coated metal bullet fired by an Israeli trooper in the Surif town in Hebron province on Friday.
The PJS condemned the assault on Amarneh, calling it a "deliberate targeting by the Israeli army of a colleague wearing a bullet-proof vest signed Press." It also called on the "international institutions to act quickly to stop this violence against the press in Palestine."
Israeli occupation forces on Sunday morning suppressed a sit-in organized by journalists at the northern entrance of Bethlehem, in solidarity with their colleague, Mu'ath Amarneh.