Militia clashes rock Libyan After Failed Coup Attempt
Fighting between two armed groups under the authority of the country's interior ministry has caused panic in the Libyan capital Tripoli.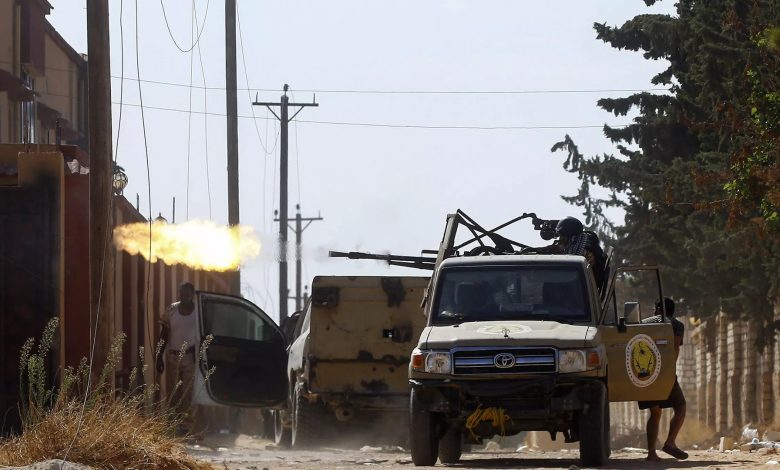 Clashes between armed groups erupted in Libya's capital on Friday night, according to local media, as the country reels from a failed coup attempt three weeks ago.
Heavy exchanges of gunfire and explosions ricocheted across several districts of Tripoli on Friday, according to an AFP journalist, while images broadcast by local press showed civilians fleeing heavily trafficked areas.
The intense fighting involved two influential militias from western Libya, local media reported.
The clashes were sparked by private disputes between members of the Al-Nawasi Batallion on the one hand and the Stability Support Authority (SSA) on the other, a security source told The New Arab's Arabic-language service.
Both militias are under the authority of the Tripoli-based government's interior ministry. Amnesty International has previously accused the SSA of "shocking human rights violations and crimes".
Videos uploaded to social media showed terrified families fleeing the site of the clashes.
The situation in Libya remains unstable, with political infighting ongoing since a 2011 revolution toppled longtime dictator Muammar Al-Gaddafi.
The security source said that the clashes lasted for two hours and were stopped when forces from the Libyan defence ministry intervened.
Dbeibah was appointed under a troubled UN-led peace process early last year to lead a transition to elections set for December 2021, but the vote was indefinitely postponed.
In February, parliament appointed Bashagha, a one-time interior minister, to take over.
But Dbeibah has insisted he will only relinquish power to an elected administration.