Moscow: Taliban must "fulfill commitments" to be recognized by the international community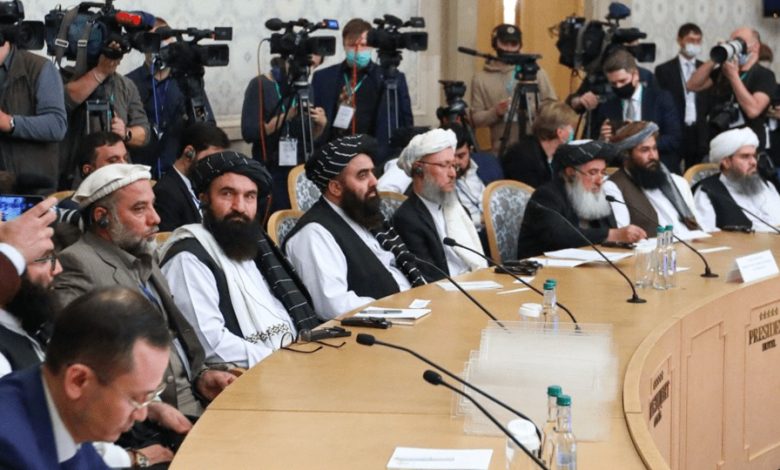 Russian official: "This matter was told to the Afghan delegation, this moment will come only when it begins to fulfill the greater part of the international community's expectations regarding human rights and the comprehensive character" of the regime.
He added that the Taliban "confirmed that they are working on this matter, and that they are working to improve governance and improve the human rights situation. We will see."
He explained that the ten countries that participated in Wednesday's talks, especially China, Iran, Pakistan and Central Asian countries, called on the United Nations to organize an "international donors' conference" in the face of the risks of a humanitarian crisis.
He added: "We do not need foreign military assistance, we need support for peace in Afghanistan, we need reconstruction and renewal."
It is noteworthy that the Taliban delegation did not issue statements after Kabulov's announcement, but at the beginning of the Moscow talks, the head of the delegation, Deputy Prime Minister Abdul Salam Hanafi, said that his government was "basically comprehensive."
In turn, Russian Foreign Minister Sergei Lavrov acknowledged earlier the Taliban's "efforts" to achieve stability in Afghanistan, noting that "the terrorist threat coming from the country threatens the entire region."
"We recognize the efforts made to stabilize the political-military situation," Lavrov said, noting that "there is a real danger … of the spread of terrorist activities and drug smuggling … into the territories of neighboring countries."
Senior Russian officials, led by President Vladimir Putin, have expressed concern about security since the Taliban took power in Afghanistan and foreign forces withdrew after nearly 20 years of presence.
Putin warned last week that about 2,000 militants loyal to the Islamic State group had poured into northern Afghanistan, noting that their leaders were planning to send them to neighboring Central Asian countries as refugees.