Neymar claims to have experienced 'hell' with Lionel Messi at PSG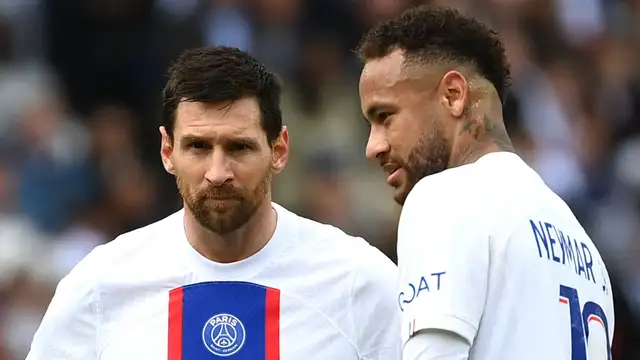 Robert Pires has called Neymar and Lionel Messi 'cry-babies' after comments from the Brazilian that the pair 'lived through hell' at Paris Saint-Germain.  
Both players left the club this summer after a sour end to their time at the Ligue 1 side, with fans famously turning against them following their Champions League exit to Bayern Munich in the Round of 16.
Messi joined Inter Miami where he has already made a huge impact helping them win the MLS Cup, with a final against Houston Dynamo in the U.S. Open Cup final to come later this month.
Neymar meanwhile was one of many players to make the switch to the Saudi Pro League this summer, though is yet to make his debut for Al Hilal due to an ankle injury.
The 31-year-old has opened up about his and Messi's departure from the Ligue 1, stating that his former team-mate left PSG in a way 'he did not deserve'. 
The pair enjoyed domestic season, but they failed to deliver the Champions League despite being part of a front-three also including Kylian Mbappe
Neymar, as per AS Sports, said: 'I was very happy for the year he (Messi) had, but also very sad, because he lived both sides of the coin. 
'He realised a dream with Argentina and won everything, but at PSG he lived through hell. We both did.
'Messi left (PSG) in a way that, in a football perspective, he did not deserve. Everything he is, everything he does, anyone who knows him, he's a guy who trains, fights, if he loses he's angry and was unfairly accused.
'It made me very happy that he won the World Cup. Messi deserved to 'end' his career like this.'
Former Arsenal star and French World Cup winner Pires fired back at the pair and questioned whether they dealt with the pressure at PSG. 
'I call that being cry-babies', the 1998 French World Cup winner told Canal+ as per Get Football France. 
'Being a professional player means withstanding the pressure. Sometimes, when you play well, you're glad to receive praise. When you don't, that's part of the game.'
Pires then looked back at his own career talking about how he handled the pressure at Arsenal.
Messi left PSG for Inter Miami where he has already made a huge impact for the MLS side
Neymar joined Al Hilal but has yet to make an appearance for them due to an ankle injury
He added: 'When I joined Arsenal, I had to replace Marc Overmars and they said I was hopeless. I kept my mouth shut, kept working and it eventually paid off.'
While Messi and Neymar both achieved domestic success at PSG, they failed to deliver the club the trophy which fans truly wanted to win, the Champions League. 
A group of fans were recorded outside Neymar's home back in May, chanting for him to leave the Parc des Princes, while Messi was regularly jeered during games towards the end of the season.