Palestine, Egypt, Jordan Foreign Ministers Discuss ways to reach a settlement on the Two-State Solution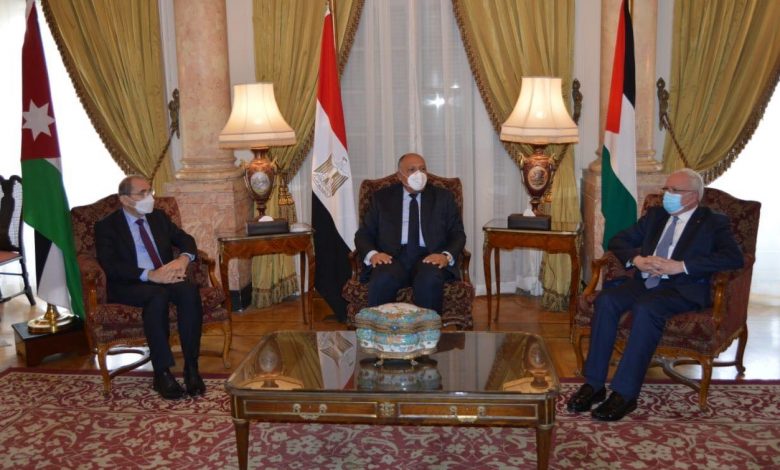 Palestine, Egypt, Jordan announced that they are working to reach a fair solution to the Palestinian cause, said Egyptian Foreign Minister Sameh Shoukry in a statement with his Jordanian counterpart Ayman al-Safadi and Palestinian Foreign Minister Riyad el-Malky on Saturday.
"Palestinian cause on Egypt's priorities," Shoukry said, saying that the three ministers discussed the means of breaking the deadlock of the Palestinian-Israeli cause.
The three ministers held a joint meeting in Cairo on Saturday to discuss the mechanism of reviving the peace talks with the Israeli side in presence of the new US administration under the leadership of President-elect Joe Biden.
"The Palestinian cause is the central issue for the Arabs," said Safadi, adding that peace is the strategic way to the two-state solution. 
Safadi noted that the three parties discussed the challenges against the cause to find more appropriate mechanism that help find solution to it.
"Sovereignty over Jerusalem is Palestinian and the custodianship of the religious sanctities is Hashemite," he said.
For his part, el-Malky praised the outcomes that resulted in a meeting between the three and Egyptian President Abdel Fattah, who voiced Egypt's steady support for the Palestinian cause Saturday morning. 
He announced that the three ministers discussed the means to practice pressure on Israel in order to stop its unilateral activities which impede all possible ways for reaching a solution.
"We see that this meeting is vital and came after the latest visit paid by President Mahmoud Abbas to Jordan, where he met with Abdullah II, and then his visit to Cairo and meeting with President Abdel Fattah El Sisi," Malky said.
He noted that such meeting led to more discussions aim at "reaching a joint vision in dealing with the coming period, especially with the US new administration."
"We affirm our commitments to the Arab peace initiative for the two-state solution and establish a Palestinian State on the border of 1967 through the direct talks […] We expect the new administration could rearrange it coordination with Israel," Malky said.
He added that the Israeli policy of expanding settlements and destructing the Palestinian buildings impede the peace process, calling on the Arab world to pressure on Israel to stop such acts. He also praised Egypt's efforts in the inter-Palestine reconciliation.
Egyptian Foreign Ministry Spokesperson Ahmed Hafez posted the joint statement by the three ministers on his official Twitter account, saying that the three countries agreed to mass the international community to stop the Israeli illegal and illegitimate acts in the Palestinian territories.