Palestinian community in the Emirates denounces the accuses of betrayal used by Palestinian Authority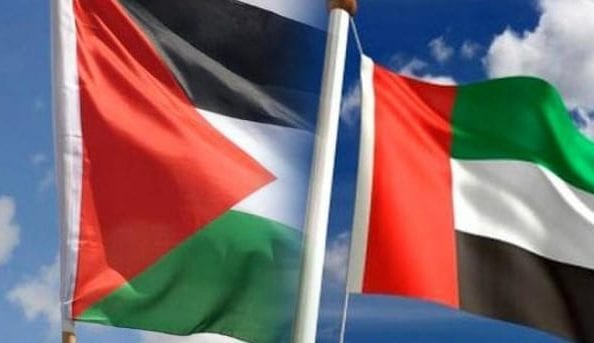 Dr. Muhannad Khanfar, The head of the Palestinian Community Committee in Emirates, said that the relations of the Palestinian and Emirati peoples are "strong" between the two countries.
Khanfar stressed, in a press statement, that the existing relations "are impossible to break and continue to serve the interests of the two countries."
In previous statements, Khanfar said that the Emirate presence is active in the crises that faced the Palestinian people, especially the humanitarian ones, through several developmental, social, humanitarian, housing, health and educational projects in the West Bank and Gaza Strip.
He confirmed that the Palestinian people are grateful, and that they will remain immortal in the Palestinian memory.
Dr. Khanfar also expressed his hopes that the Emirates would reach an agreement to what is good for the benefit of the two countries, the Arab and Islamic nations, and that their efforts to pressure on Israel to stop annexing Palestine lands.
Palestine, Arab and international reactions continued, welcoming the peace treaty between the UAE and Israel.
Members of the Palestinian community in the Emirates denounced the language of betrayal, which Palestinian leaders used against the UAE after the announcement of a peace treaty with Israel that guaranteed Tel Aviv retreat from annexing 30% of the West Bank.
This came during a consultative meeting, today, Sunday, which included a group of Palestinian businessmen and community leaders through the Zoom technology.
The participants emphasized that the UAE is an independent, and it has the right to choose its foreign policy and conclude cooperation agreements in line with its strategic interests.
The Palestinian community members expressed their absolute confidence in Emirates stance, leadership, government and people, headed by Sheikh Khalifa bin Zayed Al Nahyan, President of the State, Sheikh Mohammed bin Rashid Al Maktoum, Vice President and Prime Minister of the State, and Sheikh Mohammed bin Zayed Al Nahyan, Crown Prince of Abu Dhabi and Deputy Supreme Commander For the armed forces, permanent and supportive of the Palestine case, in order to enable the Palestinian people to establish their independent country and Jerusalem its capital.