Pep Guardiola's daughter shares powerful post decrying Gaza war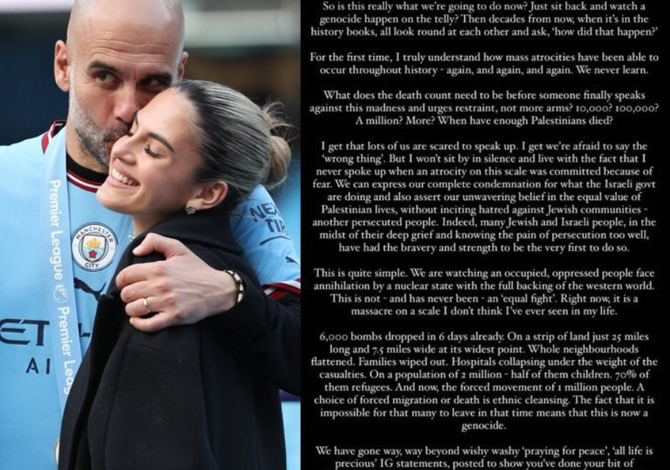 A powerful post in which a fashion content creator called Eva has decried the Israeli-Palestine war was reposted by Manchester City coach Pep Guardiola's daughter and has garnered more than 140,000 views.
Eva put up the post on her Instagram account, "whateveawears," questioning how many people had to die before "someone urges restraint." She wrote: "So is this really what we're going to do now? Just sit back and watch a genocide happen on the telly (TV)," UK publication The Independent reported on Saturday.  
A model and fashion content creator herself, Maria Guardiola shared Eva's post, which also said: "For the first time, I truly understand how mass atrocities have been able to occur throughout history — again, and again, and again. We never learn."
The statement, which was shared widely on Instagram and X, further reads: "What does the death count need to be before someone speaks against this madness and urges restraint, not more arms? 10,000? 100,000? A million? More? When have enough Palestinians died?"
Guardiola's daughter was among thousands who have reposted and reshared Eva's emotional message on different social media platforms.
In an obvious bid not to incite hatred against Jewish communities, Eva wrote: "I get that lots of us are scared to speak up. I get we're afraid to say the 'wrong thing.' But I won't sit by in silence and live with the fact that I never spoke up when an atrocity on this scale was committed because of fear.
"We can express our complete condemnation for what the Israeli govt are doing, and also assert our unwavering belief in the equal value of Palestinian lives, without inciting hatred against Jewish communities — another persecuted people. Indeed, many Jewish and Israeli people, in the midst of their deep grief and knowing the pain of persecution to well, have had the bravery and strength to be the very first to do so."
The Independent added that the London-based content creator shared a post by Israeli human rights groups calling for an end to indiscriminate attacks on civilians.
Majid Freeman, an activist for Free Palestine, is among those resharing Eva's post on X, in a tweet that has been viewed more than 2.5 million times.
X handle, "City Chief," with more than 220,000 followers, shared Maria Guardiola's Instagram story containing Eva's post.