President Vladimir Putin promises free grain for six African countries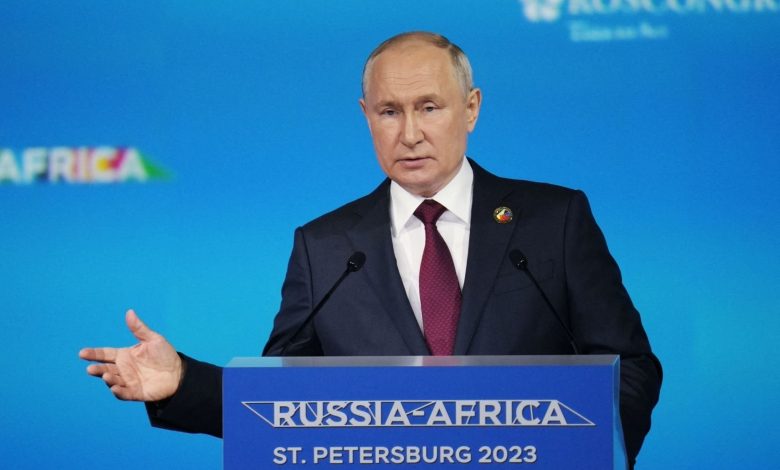 President Vladimir Putin has promised free grain supplies to six African nations as Moscow seeks to capitalise on the collapse of the Black Sea grain deal.
Speaking on the first day of a Russia-Africa summit in St Petersburg, the Russian president claimed his country would be able to replace Ukrainian grain exports blocked by Moscow's decision to abandon the UN-brokered arrangement which had allowed the export of grain and other products from Ukraine through the Black Sea to markets, many of them in Africa.
"In the coming months, we will be ready to provide Burkina Faso, Zimbabwe, Mali, Somalia, the Central African Republic and Eritrea with 25,000-50,000 tonnes of grain free of charge," Putin told attending African leaders on Thursday.
Russia is hosting a two-day summit with the African continent designed to portray Moscow as a great power despite crippling western sanctions and growing unease in the global south over the country's destabilising war in Ukraine.
This month, Russia announced it would pull out of the grain deal. Putin partly blamed the withdrawal on western sanctions that he said restricted the sale of Russian agricultural products abroad. The deal, brokered by Turkey, had lasted about a year and allowed billions of dollars worth of grain to safely transit out of Ukraine via the Black Sea.
Commenting on Putin's promises of free grain, the UN secretary general, António Guterres, said a "handful of donations to some countries" would not correct the dramatic impact the end of the deal would have.
Observers believe that Putin will use this week's summit to push a plan to supply grain directly to Africa and cut Ukraine out of the global market. Moscow has previously used the grain issue to find allies in the global south for its war in Ukraine and gather support against western sanctions.
Russia has also tried to win support among African leaders by claiming that the grain deal prioritised "well-fed European markets" rather than countries in Africa. While the west has acknowledged that grain exports to the poorest developing countries has not returned at the desired rate, the deal has helped reduce global food prices by more than 23%. Wheat prices have been climbing on global markets since Russia withdrew.
As the summit began, it also emerged that Putin had given a helicopter to Zimbabwe's president Emmerson Mnangagwa. Zimbabwe's information ministry posted photos of Mnangagwa walking down the aircraft's steps and sitting inside the cabin before a table with glasses of white wine and a bowl of fruit. "This bird will soon be gracing our skies," wrote a government spokesman on Twitter.
Despite a flurry of Russian diplomatic efforts in Africa, there are clear signs that frustration on the continent is growing over Russia's decision to withdraw from the deal, amid fears of a looming food supply crisis.
The Kremlin said on Wednesday that just 17 African heads of state would be attending the summit, fewer than half of the 43 who came to the first Russia-Africa summit in 2019 hosted in Sochi. Asked about the low number of attenders, Putin's press secretary, Dmitry Peskov, blamed the west for "putting pressure" on African countries "in order to prevent their active participation in the forum".
Less likely to be discussed in public is the role of the Wagner mercenary group, which is most active in Central African Republic (CAR), Libya, Mali and Sudan. The Kremlin has repeatedly pledged that it will not reduce Wagner's activities in Africa after Yevgeny Prigozhin's aborted rebellion last month.
Prigozhin made a surprise appearance on the sidelines of the summit, despite an agreement with the Kremlin that he went into exile in Belarus.
Late on Wednesday, a close ally of Prigozhin posted a picture showing the Wagner boss meeting Freddy Mapouka, a senior official in CAR, an impoverished
country that has welcomed thousands of the group's mercenaries over the last few years.
The image was first published on Facebook by Dmitry Syty, a Russian national whom western officials have described as an important figure in Wagner's CAR branch. According to local news outlet Fontanka, the image was taken at the Trezzini Palace hotel in St Petersburg, which is reportedly owned by Prigozhin.
In a separate photograph, Prigozhin is seen shaking hands with the head of the Cameroonian edition of Afrique Média, a pro-Russia television outlet that targets French-speaking African countries and has been linked to the Wagner group.
The images represent the first visual sightings of Prigozhin in Russia since the warlord halted his mutiny. His continued presence in the country indicates that the Kremlin has been unwilling or unable to remove him as Wagner head.
The Kremlin has previously said that Prigozhin met with Putin shortly after his march on Moscow to discuss Wagner's future, but the warlord has since been photographed in Belarus.
Under a deal to end the rebellion, which saw Wagner troops seize a major southern city and march on the capital, charges against Prigozhin were dropped and he was ordered to move into exile in Belarus. A video circulating on social media last week purportedly showed the mercenary chief addressing his fighters in Belarus and calling the Russian war effort in Ukraine a "disgrace".
Before the summit, Prigozhin gave a rare interview with the pro-Kremlin television channel Afrique Média, which targets French-speaking African countries. "There was no, and there will be no, reduction in our programmes in Africa," he said.
Meanwhile, Russia's military continued its targeting of grain infrastructure at Ukrainian port cities, hitting port infrastructure in Odesa's Black Sea region, killing one person and causing significant damage.
Kubrakov, the infrastructure minister, also said that Russia was restricting shipping in the area of ​​the temporarily occupied Crimea and near the territorial waters of Bulgaria.
Russia has stepped up its attempts to strangle Kyiv's globally important agricultural exports after exiting the grain deal, damaging 26 port infrastructure facilities and five civilian vessels in the previous nine days, according to the deputy prime minister for the restoration of Ukraine, Oleksandr Kubrakov.