PSG remove star's posters, merchandise from club shop
The club is stuck in a contract stalemate with the French forward.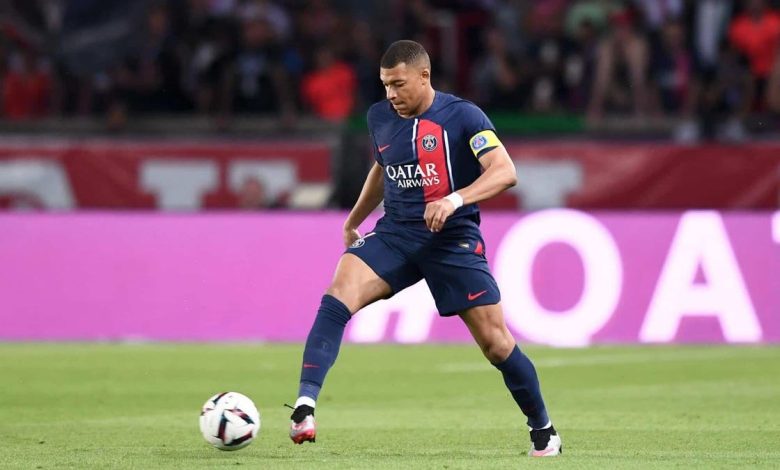 Paris Saint-Germain are not backing down when it comes to their contract stalemate with Kylian Mbappe. As the Ligue 1 season gears up for the opening weekend, the defending champions have apparently pulled all of Mbappe's shirts from their club shop in Paris and have also been removing his likeness from the Parc des Princes.
As of this writing, Mbappe is still under contract with PSG. However, he and the club are butting heads over his refusal to sign a contract extension beyond 2024. As a result, the club has made steps to put pressure on the player, including dropping him from the lineup in their recently concluded pre-season tour of South Korea and Japan.
Now, Get French Football News has reveled that Mbappe's shirts are nowhere to be found in the club superstore. Ironically, jerseys printed with the name of Lionel Messi, who left the club to join MLS side Inter Miami earlier this summer, are still available for sale. Shirts bearing the name of Brazilian forward Neymar Jr., who reportedly put in a transfer request on Sunday, are also still available for purchase.
A video from inside the shop was shared on social media, and hordes of fans could be seen picking up shirts and browsing through the racks. No one could spot a single Mbappe shirt, but one of the interior walls in the shop still has the striker's photo plastered on it.
Meanwhile, at the Parc des Princes, construction workers could be seen removing a large mural on the exterior wall of the stadium which features images of players including Mbappe. It is unclear if this is an act aimed primarily at removing Mbappe's image from the club's facilities, or if it is a routine maintenance activity at the start of the season. The club may be gearing up to replace the mural with a more updated one. It remains to be seen if the replacement poster will feature Mbappe.
Mbappe's current contract status
Simply put, Mbappe is a Paris Saint-Germain player and he remains so until the summer of 2024. He has refused to entertain an offer from Saudi Pro League side Al-Hilal, and Spanish giants Real Madrid have not made an offer despite the player's availability.
The prolific striker has made it clear that he is more than willing to stay and play for PSG for the remainder of his contract, but the club is not willing to let him leave for free in twelve months. This is why they are pushing for him to either sign an extension of leave now when they can still collect a sizeable transfer fee.
However, Mbappe has refused to go for either of PSG's preferred options, and he seems determined to run down his contract until next summer. It is said that he is even willing to be benched throughout the upcoming season if PSG manager Luis Enrique chooses to do so.
PSG piles on the pressure
Club officials have not taken Mbappe's decision lightly, and apart from leaving him out of the pre-season tour of Asia, he was also left out of first team training on Monday. Mbappe was told to join the "B-team" in training, and if the contract situation does not get sorted out in the next few days, it seems unlikely for him to start this weekend when PSG open their Ligue 1 campaign against Lorient.
PSG were open to letting Mbappe join Al-Hilal on a $1.1 billion deal, but the player refused even if the one-year contract allegedly allows him to leave on a free transfer in 2024 as he had originally planned. PSG are convinced that the player is standing his ground because he already has an agreement with Real Madrid for a free transfer and massive signing on bonus.
The Parisians have been accused of "moral harassment" due to their obvious moves to twist Mbappe's arm, but the latest developments show that that they are not planning to back down. The club has reportedly made a new extension proposal which guarantees that Mbappe will be sold in 2024, but it also ensures that the club can collect transfer fees. This proposal has also been rejected by the player.
The clock is ticking and if no solution is found, it remains to be seen if PSG will utilise Mbappe on the pitch this season, or if they will banish him to the bench despite still paying his salary. The relationship between Mbappe and the rest of the locker room has also suffered a blow after an interview wherein he spoke up about the club being "divisive."