Putin calls on Scholz, Macron to intervene in Kiev's actions against civilians
"In particular, the Russian president cited numerous facts of gross breaches of international humanitarian law by Ukrainian forces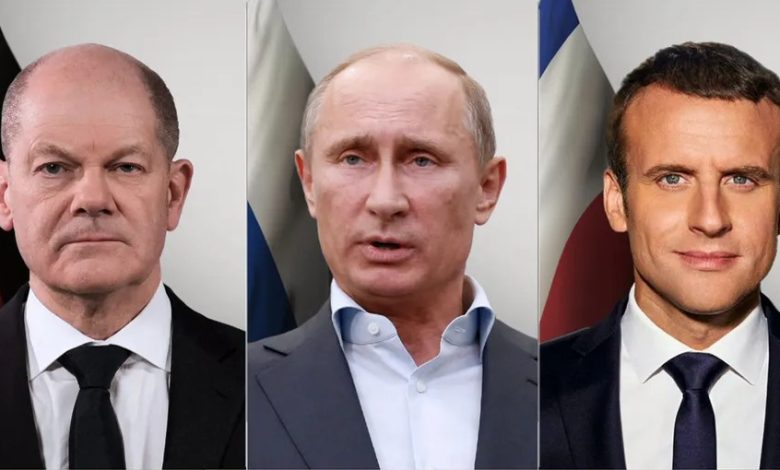 Russian President Vladimir Putin has informed French President Emmanuel Macron and German Chancellor Olaf Scholz about violations by Ukrainian forces of international humanitarian law, the Kremlin said on Saturday after the talks held by the three leaders by phone.
The Kremlin's statement says that in response to his counterparts' questions Putin briefed them on the real state of affairs concerning the humanitarian situation in the areas of the special military operation to defend Donbass.
"Vladimir Putin urged Emmanuel Macron and Olaf Scholz to exert influence on the Kiev authorities so that such criminal actions would be stopped," the statement said.
"In particular, [the Russian president] cited numerous facts of gross breaches of international humanitarian law by Ukrainian forces, namely extrajudicial executions of dissenters, hostage taking, the use of civilians as human shields, the deployment of heavy weapons in residential areas – outside hospitals, schools, kindergartens and the like," the Kremlin said. "Simultaneously, nationalist battalions systematically disrupt rescue operations and intimidate civilians who attempt to evacuate."
On February 24, Putin announced a special military operation in response to a request for help by the heads of the Donbass republics. Russia demands that Ukraine should be demilitarized and de-Nazified, should have a non-aligned and non-nuclear status, should recognize Crimea as part of Russia and recognize the sovereignty of the Donetsk and Lugansk People's Republics. In the meantime, the United States, the United Kingdom and some other states slapped sanctions on Russia.