Report: 90% of the Turkish media are in the hands of Erdogan regime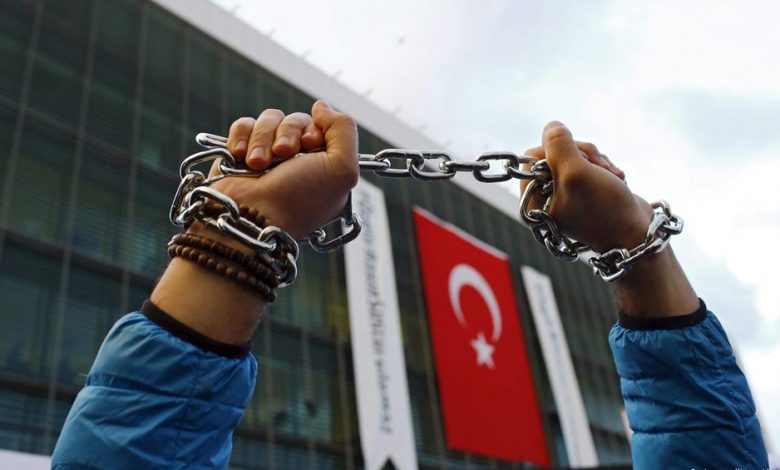 A new report by the French press organization Reporters Without Borders showed that 90% of the Turkish media are either under the control of President Recep Tayyip Erdogan's government or businessmen close to him, which angered civil organizations defending public freedoms in the country.
The head of the Turkish Journalists Syndicate, Gökhan Dormus, considered that "the French organization's data are accurate and correct after the government took control of most of the media in the country."
The French organization revealed at the beginning of this week that during the last year 2020, Turkish courts issued rulings to delete 1,358 news published in the local media in which they referred to Berat Albayrak, Erdogan's son-in-law and former finance minister, in addition to his son Bilal, businessmen and prominent members of his "Justice and Development" party. the ruler.
Dormus, whose trade union is known as TGS, said, "The independent press has been facing great challenges and difficulties for years, as the Supreme Council of Radio and Television (RTÜK) and the Press Advertising Authority (BİK) have held them accountable and financially suspended them under the pretext of organizing the work of the media."
He added to Al-Arabiya.net that "these two bodies are working to punish the media with orders from the government, and we have many examples. They imposed fines last January on independent newspapers, including the daily Evrensel, in addition to preventing them from publishing advertisements for a period of three days." Which may lead to financial crises in these newspapers. "
'Physical assaults'
He continued:Journalists are also subjected to physical attacksIn addition to their arrest as a result of their coverage of the events, so far, the number of journalists and media workers has reached 67, yet other colleagues are seeking to preserve their profession and credibility despite all government pressures.
The government's control of a large number of media outlets has led to the absence of independent media in Turkey. The authorities' closure of hundreds of media outlets during the failed coup attempt against President Erdogan's rule in mid-2016 also led to a decline in the role of non-governmental media.
He pointed out that "our union believes in democracy as a basis for freedom of the press, and for this reason the authorities must stop threatening journalists and control the media through various companies, and I believe we need in Turkey controls regarding media ownership, so that they do not fall into the hands of those who support the government, such as businessmen." ".
Since the failed coup attempt, the authorities have arrested and conducted investigations with hundreds of journalists, and as a result dozens of them fled the country. Nevertheless, Turkish courts issued sentences in absentia against some of them, including the well-known journalist Jan Dundar, against whom the authorities issued several sentences in absentia with long prison terms.