Report: ISIS used chemical weapons on Iraqi prisoners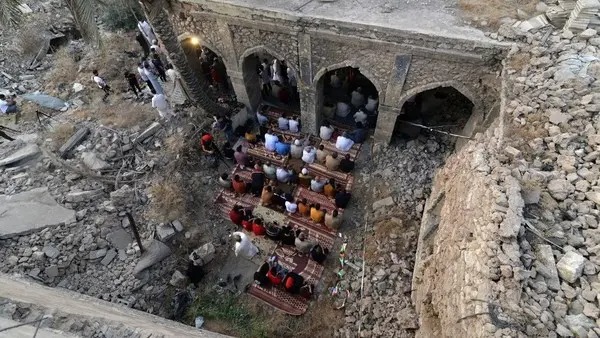 The Islamic State used Iraqi prisoners as human test subjects in experiments with chemical and possibly biological weapons, United Nations investigators conclude in a report that sheds new light on the terrorist group's forays into making a weapon of mass destruction.
The previously unknown experiments happened sometime after 2014, when the Islamic State seized control of Mosul and commandeered the city's main university as a research center for new kinds of weapons, according to the report by a panel appointed by the U.N. Security Council to investigate war crimes by the extremist group. At least some of the prisoners died, the report said.
The new evidence came to light through an examination of computers and cellphones from killed or captured Islamic State operatives, according to the report presented to Security Council officials this week by the U.N. Investigative Team to Promote Accountability for Crimes Committed by Da'esh. Da'esh, along with ISIL and ISIS, is one of several names for the Islamic State.
The investigators examined reports of prisoners being exposed to thallium, a highly toxic chemical used historically as a rat poison, as well as nicotine, which is lethal in high doses. U.N. officials also are exploring the Islamic State's efforts to weaponize chlorine and manufacture sulfur mustard, the chemical weapon commonly known as mustard gas that was used to kill and maim thousands of soldiers in World War.
Iraqi scientist says he helped ISIS make chemical weapons
"Evidence already secured indicates that ISIL tested biological and chemical agents and conducted experiments on prisoners as part of this program, causing death," the report said. "Weaponized vesicants, nerve agents and toxic industrial compounds are suspected to have been considered under the program."
Experimental research in chemical warfare is a little-known facet of the Islamic State's ambitious campaign to create new weapons for fighting its regional enemies or using as terrorist weapons abroad. After capturing most of northern Iraq in 2014, the militants seized a large quantity of chlorine from Iraqi water purification plants and then used the chlorine in poison-gas attacks against Kurdish and Iraqi fighters.
Later, Islamic State leaders recruited scientists and engineers — a mix of foreign experts and veterans of former Iraqi leader Saddam Hussein's chemical weapons factories — to help them produce sulfur mustard, using the laboratories of Mosul University as a research hub.
International investigators confirmed that the effort partially succeeded: The Islamic State manufactured a kind of homemade sulfur mustard of relatively poor quality and dispersed it in battles using artillery rockets.
The quality might have improved with time, analysts say. The program's top scientists were killed or captured in 2015 and 2016, in raids by the U.S.-led military coalition in Iraq. The group's main labs were destroyed in airstrikes in 2016 and during the fighting to liberate Mosul. Some of the group's chemical experts are believed to have escaped.
What Assad's chemical weapons really accomplished
The suggestion of possible biological weapons research — no specifics were given in the report — was viewed by experts as particularly worrisome, because the Islamic State is not known to have invested significant resources in creating a biological capability.
The U.N. findings are part of a broad inquiry into alleged atrocities carried out by the Islamic State, including the rape and killing of ethnic Yazidis and the executions of thousands of Iraqi soldiers, cadets and police officers who were captured as the group swept across the country in 2014.
"The report signals an uptick in both capability and motivation," said Richard Pilch, director of the chemical and biological weapons program at the James Martin Center for Nonproliferation Studies in Monterey, Calif. If borne out, the finding could warrant a "shift in our force protection posture" to protect troops deployed in the region, he said.
The investigation's leader, Karim Asad Ahmad Khan, told Security Council members that his group had found "clear and convincing evidence" of crimes of genocide by the Islamic State, especially against Iraq's Yazidi minority. He said the list of crimes documented included "murder, torture, cruel treatment and outrages upon personal dignity."