Resistance causes damage to raiding "Israeli Units" in Jenin
After spotting IOF raiding special party, Jenin Brigade lured it into an ambush, and clashes erupted with Israeli reinforcements sent afterward.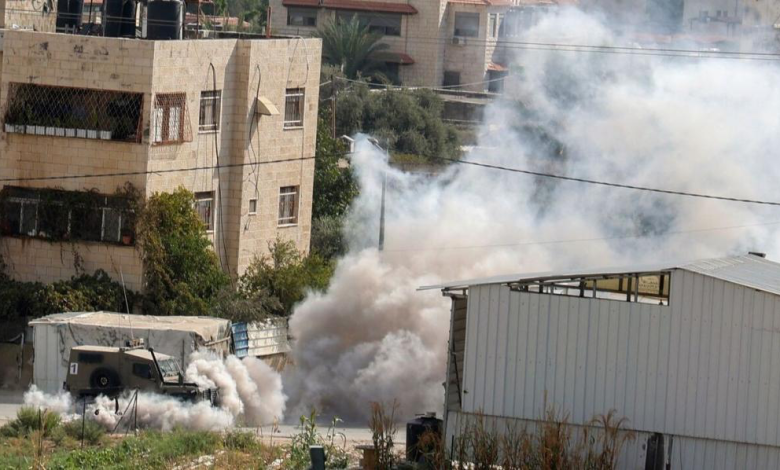 The Israeli occupation forces raided Jenin early this morning resulting in violent confrontations with Resistance groups protecting the city from the aggression conducted regularly by the IOF.
According to Palestinian media, at least 13 Palestinian residents of the city have been wounded by live IOF fire as a result of the raid and have been transferred to the Jenin hospital.
The Jenin Brigade announced that its members had successfully lured an IOF unit into an ambush "the likes of which it had not witnessed before," adding that the Resistance reported "casualties"  amongst IOF ranks.
The Jenin Brigade announced targeting the IOF with locally-made explosive devices causing significant damage to IOF raiding vehicles with a likelihood that they have also resulted in injuries amongst the raiding occupation forces as bullets continued to rain upon them following the explosions. 
Video evidence showed Israeli raiding party vehicles being targeted by explosive devices.
Reports from inside Jenin underscored that the Red Star of David has been sighted in the vicinity of the fire exchange zone where multiple IOF vehicles were targeted with locally-made IEDs.
Moreover, Al-Quds Brigades -Jenin Brigades announced in a military statement that Resistance fighters "continue to target the IOF storming the Al-Jabriyat and the Al-Hadaf neighborhood with intensive fire and improvised explosive devices that are resulting in injuries."
Our correspondent reported The number of injuries in Jenin camp so far has reached 14, 3 of which are in critical condition.
Our correspondent added that confrontations are still ongoing till this moment.
Walla! Israeli news Website revealed that 5 Israeli soldiers were injured after they fell to an ambush in the West Bank's city of Jenin.
A month-long investigation by CNN into the Israeli settlers' attack on Huwara reveals that the Israeli occupation forces not only failed to prevent the acts of terror on the Palestinian town but were also involved in prolonging and aiding the aggression on Palestinians.
The attacks, which took place on the night of February 26, led to the martyrdom of one Palestinian and the injury of more than a hundred. In addition, the illegal Israeli settlers were intent on burning down the properties of Palestinians in the area including their houses, stores, and cars. 
CNN based its investigation on videos, testimonies, and interviews which revealed that the IOF troops did nothing to prevent the attacks and even responded to the retaliation by Palestinians with tear gas and stun grenades.
The occupation's military commander in the West Bank called it a "pogrom" and admitted that the military had not adequately prepared for such attacks.
The report also highlighted the role of right-wing extremist groups, settler organizations, and several Israeli politicians in instigating and promoting the violence against Huwara.