Robert Saleh becomes first Muslim head coach in NFL history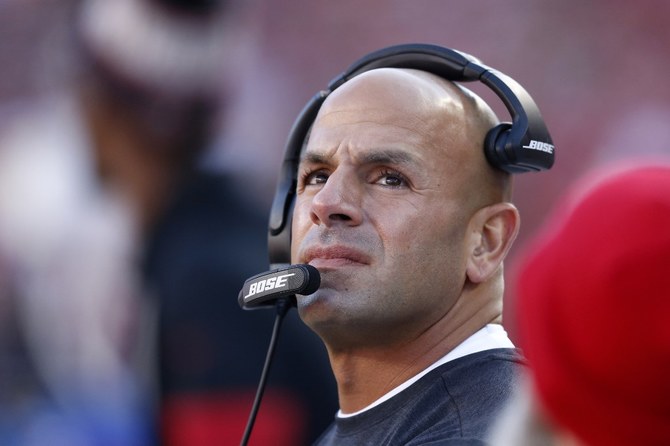 The New York Jets said Friday they were appointing Robert Saleh as their head coach, making him the first Muslim to lead a team in the National Football League (NFL).
Saleh, who has been defensive coordinator at the San Francisco 49ers since 2017, will replace Adam Gase, who was fired at the end of a disappointing 2020 regular season.
"Saleh will become the Jets' 20th head coach in franchise history and their 18th coach appointed to take Green and White reins before the start of a new season," the Jets posted on their website.
He beat other candidates for the job, including the Tennessee Titans' assistant coach Arthur Smith, and was wanted by at least six other franchises including Super Bowl LII champions the Philadelphia Eagles, the Detroit Lions and the Los Angeles Chargers, according to ESPN.
Before his stint in San Francisco, Lebanese-American Saleh served as a defensive assistant with the Jacksonville Jaguars, the Seattle Seahawks and the Houston Texans.
He will be the third Arab-American head coach in the NFL after Abe Gibron, who is also Lebanese-American, and Rich Kotite, but he will be the first Muslim, according to a statement from the American-Arab Anti-Discrimination Committee.
His no-nonsense approach to defensive play made him a popular figure with his players and 49er fans.
"He makes sure there's no grey area in terms of coaching and teaching," San Francisco linebacker Fred Warner said last month. "There's a lot of coaches out there who just coach. But he's a great teacher."
Another of his former players, Richard Sherman, congratulated him on the appointment. He tweeted: "The @nyjets got a great one! Congrats to them!"
His appointment was also welcomed by the Muslim civil rights body, the Council on American-Islamic Relations.
He will have a tough task at the Jets, turning around the fortunes of a team that has failed to make the playoffs since the 2010 season, currently the NFL's longest active postseason drought.
With quarterback Sam Darnold failing to hit the heights he promised after being picked No. 3 in the 2018 draft, Saleh's first job will be to find a solid option in that position if he is to bring success to East Rutherford for the first time since 1968.