Russia launches Probe into 'Terrorist Act' After Train Derailment
More than a dozen cars carrying mineral fertilizers went off the rails in the western part of the country earlier on Saturday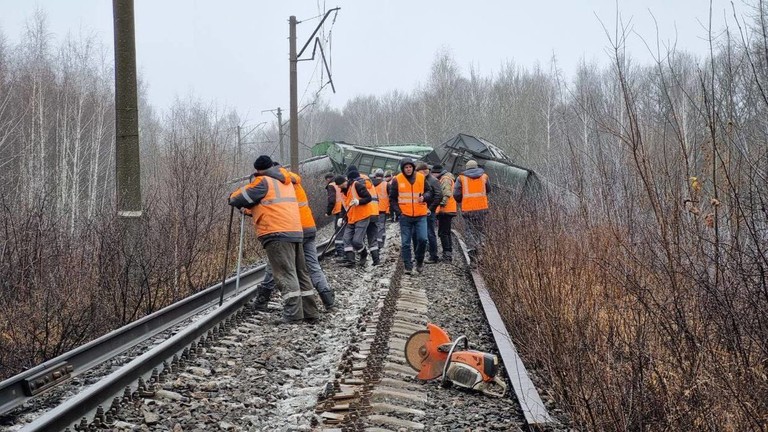 Russia's Investigative Committee has opened a terrorism probe after a major railroad incident in the western part of the country on Saturday. Officials said that an explosion had caused more than a dozen freight cars to derail.
In a statement published on Telegram, the committee said a criminal case had been opened into a "terrorist act" and "illegal possession… of explosive materials or explosive devices." 
According to officials, an improvised explosive device went off on a railroad in Ryazan Region early on Saturday, causing 19 freight carriages to go off the rails. Fifteen of them sustained damage, the statement said, adding that the exact scale of the destruction is still being determined.
The Investigative Committee has not yet named any suspects in the case, and it is also unclear how many people may have been involved. Officials were still investigating the scene at the time the statement was issued, the committee added.
On several occasions in recent months, Russia's Federal Security Service (FSB) has reported detaining alleged Ukrainian agents who were accused of plotting attacks on transport infrastructure. Kiev has repeatedly sought to target various Russian infrastructure, including transport facilities, by using methods such as drone and missile strikes amid the conflict between the two countries.
The incident took place around 200km southeast of Moscow. Officials initially blamed it on "unauthorized interference by third parties in the activities of rail transport." Ryazan Governor Pavel Malkov said that the affected carriages contained mineral fertilizers. A video released by the Investigative Committee showed one of the cars bearing the inscription of PhosAgro, a leading Russian chemical company.